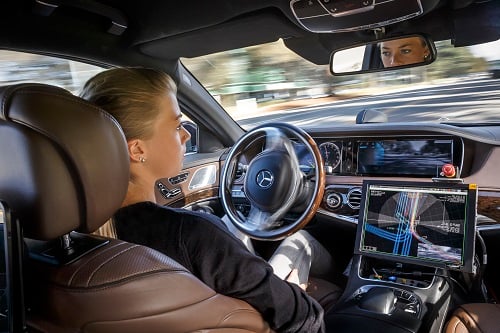 Daimler is working with Uber and Bosch among others to enable autonomous driving. Source: DaimlerSales of autonomous vehicles are forecast to reach nearly 21 million by 2035 as a result of increased development by automotive OEMs, supplier and technology companies that are heavily investing in self-driving cars, according to market research firm IHS Automotive.
Between now and 2035, some 76 million vehicles will be on the road with some level of autonomy with the U.S. leading the way in initial deployment. This forecast is based on a number of factors such as the current market development of technologies, R&D announcements and collaboration projects as well as OEM and supplier initiatives, OEM and ride-sharing initiatives, technology companies' projects and increased investment in autonomy and mobility by other entities.
"I think you're seeing a lot of forward movement in many segments of the autonomous driving industry," Jeremy Carlson, principal analyst at IHS Automotive tells Electronics 360. "Certainly automakers and suppliers are making strides, but I also think you're seeing plenty of activity that reflects new and interesting parts of the supply chain that are important inputs into these systems."
This includes chipmakers and artificial intelligence vendors, both of which are often closely tied, as well as those developing LiDAR and even ride-hailing companies that are widening their own networks such as the recent Lyft partnership with NuTonomy.
"Bottom line: There's a lot happening in a lot of different areas, and very little of it is occurring in isolated areas," Carlson said.
So who is doing the most up until this point? Let's find out.
Google/Waymo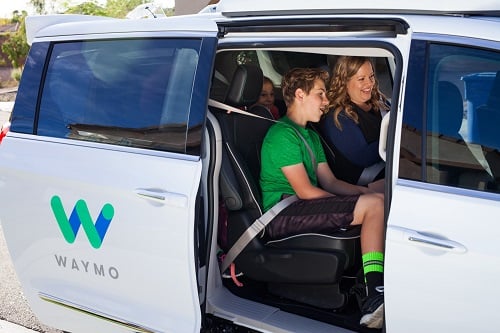 Waymo's Early Riders program is testing how self-driving vehicles work with real people every day. Source: WaymoGoogle, now known as Waymo, began testing autonomous driving in 2009, making it one of the first to actually start testing the capability inside vehicles. Since that time, Waymo has logged more than two million miles of self-driving testing (equivalent to 300 years of driving) and continues to test the concept today.
Currently, Waymo is testing autonomous cars in four cities (Mountain View, Calif.; Phoenix, AZ; Kirkland, Wash.; Austin, TX) and recently launched its Early Riders program to get residents in the Phoenix area to be driven in order to see how the technology reacts to daily life. Waymo is also adding 100 self-driving minivans to its fleet to put on public roads.
Waymo's current fleet includes three generations of self-driving vehicles with a fourth generation on the way to help with demand for its Early Riders program. Waymo also just last month signed a product development agreement with Lyft in a pilot project involving ride hailing.
Google won't probably get into the business of building actual cars but more than likely is a strong contender to be one that develops a set of software for automotive OEMs to put inside their own vehicles.
Tesla
Most people credit Tesla with the splurge in activity coming from the automotive market for electric vehicles (EVs). Tesla's Model S and Model X EVs showed there was not just a market for electric cars but that people were willing to fork over some significant cash to obtain one.
While electric vehicles only represent 0.2 percent of the overall on-road car population, the potential is enormous with now virtually every automotive OEM revealing their plans for EVs and a host of new start-ups looking to grab a piece of the action.
Tesla made another splash when it announced that all cars being produced would have full self-driving hardware installed inside of them. While the technology is not ready for the road yet, it sets a precedent that Tesla is serious about autonomous driving and putting all other OEMs on notice that they better get the ball rolling on their own self-driving programs.
Intel
One of the largest chipmakers in the world, Intel, has been developing automotive applications for a while but since the beginning of 2017, the company has had its foot on the accelerator with self-driving. It first showcased its self-driving software at this year's CES tradeshow, then later acquired a 15 percent stake in digital maps and location-based services (LBS) provider HERE.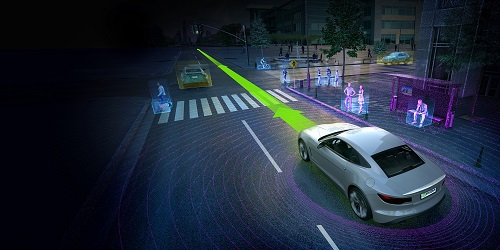 An artist's rendition of how the Drive-PX platform would work on the road. Source: NvidiaAfter partnering with Mobileye last year, Intel one-upped itself by acquiring the computer vision and machine learning company for $15.3 billion in March. Intel also scooped up computer vision start-up Itseez in 2016 to help devices connect to automated vehicle systems. Given, Mobileye already had deals with Volvo and EV start-up Lucid among others, the acquisition gives them leverage its technology to established and future automotive OEMs.
In order to explore future driverless mobility, Intel opened up its Advanced Vehicle Lab to explore in-vehicle computing, AI, connectivity and cloud technologies for autonomous driving.
Nvidia
The chipmaker has been highly active in the automotive self-driving space recently developing real-time image and deep learning systems that would run inside a vehicle. Nvidia's biggest win is working with Tesla for artificial intelligence systems that would help enable the company's self-driving features.
However, Nvidia isn't just limiting its technology to Tesla but is also working with Bosch on an AI self-driving system using its superchip Xavier with DRIVE PX technology. The company is also working with start-ups NIO for its own concept autonomous car that would come without a steering wheel and would be able to fold its interior into a bed for sleep and truck supplier ZF for an AI platform for autonomous trucks and forklifts.
Daimler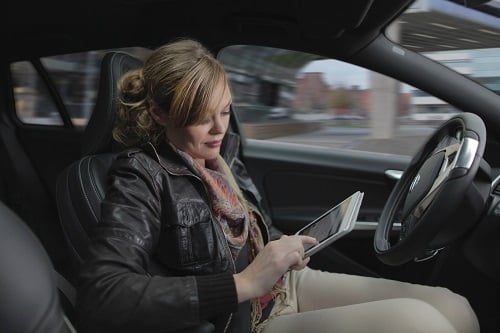 Volvo launched a self-driving car project in Gothenburg, Sweden to test how they work on real roads with real families. Source: VolvoThe car OEM is working simultaneously on both autonomous trucks and cars. Daimler has been busy over the past 12 months signing an agreement with Bosch to develop Level 4 SAE autonomous and driverless Level 5 SAE vehicles for urban roads in the next five years. It also is partnering with Uber for a global ride sharing and hailing service using self-driving technology.
Volvo
Much like Daimler, Volvo has been busy in the last 12 months expanding its self-driving platform for both trucks and cars alike by testing an autonomous garbage truck project in Sweden as well as teaming up with Uber to test self-driving vehicles in San Francisco.
Volvo says it plans to have autonomous cars on the road by 2021 and is working with Autoliv to jointly develop autonomous driving software as well as advanced driver assistance systems (ADAS) for use in Volvo cars. The company is already testing autonomous driving in Sweden as part of its Drive Me initiative where families will be driven on public roads in the city of Gothenburg.
Uber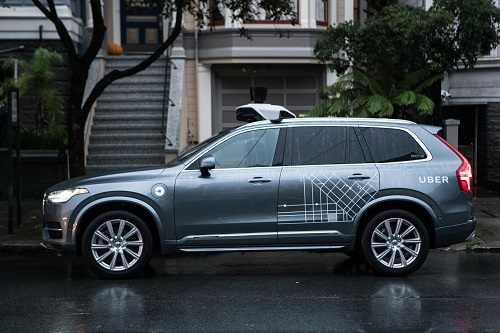 Uber is working with both Daimler and Volvo for testing self-driving ride hailing vehicles. Source: UberUber has already been mentioned a few times here working with various companies to explore the potential of using self-driving cars as a method for ride hailing. The company has signed agreements with Volvo and Daimler but late last year acquired Geometric Intelligence, an AI research start-up, to form Uber AI Labs in the hopes of expanding its technological prowess in autonomous driving.
Uber is already testing self-driving cars in Pittsburgh, Phoenix and San Francisco and plans to expand the program moving forward.
Ford
The American carmaker plans to roll out a fleet of driverless vehicles in a ride-hailing or sharing service by 2021 and says it will triple the size of its test fleet to 100 cars this year. Current tests are being done in Arizona, Michigan and California.
Last year, Ford invested in Velodyne, a LiDAR manufacturer, to the tune of $150 million and invested $1 billion in Argo AI, an AI startup in Pittsburgh to develop a virtual driver system for its self-driving vehicles.
General Motors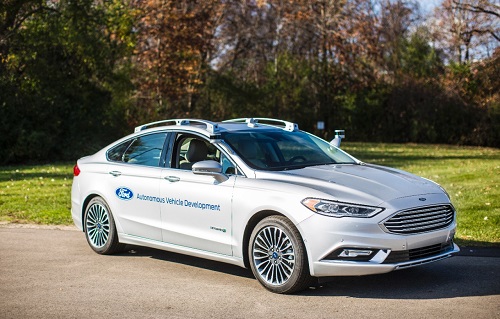 Ford has invested in AI systems for future self-driving cars. Source: FordLike Ford, GM has been actively investing in companies in order to beef up its self-driving capabilities including signing a $500 million agreement with Lyft to create a network of ride-hailing, autonomous cars. Last year, the company acquired Cruise Automation for $581 million and took no time to swell the company with plans to hire an additional 1,100 employees and invest $14 million to expand its San Francisco facility.
Later this year, GM says it will begin testing self-driving, all-electric Chevy Bolts in Michigan in order to examine different road conditions and safety systems.
BMW
Already BMW has released ADAS tech inside its luxury 7- and 5-series cars including features which helps in lane assist, parking assist and traffic jam assistance. BMW says it plans to launch a fully driverless vehicle by 2021 and is working with Intel and Mobileye to accomplish this with its computer vision and AI systems.
Late last year, BMW signed an agreement with IBM to bring the Watson AI into its features where the technology would be able to learn about the preferences, needs and driving habits of drivers over time. The Watson deal will also create a way for cognitive computing to be used throughout the vehicle and may possibly in the future include autonomous capabilities.