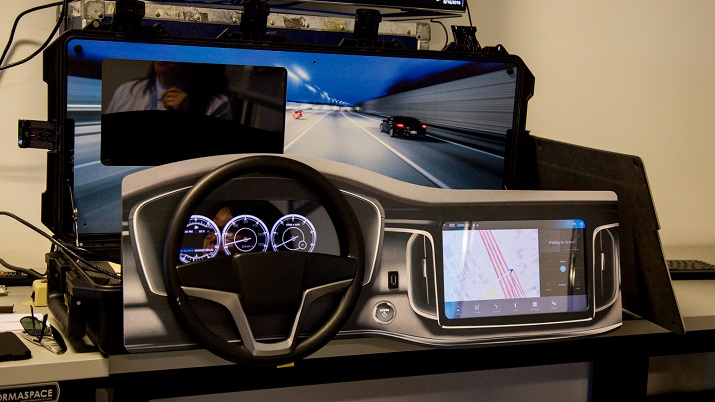 A testing platform inside Intel's new Advanced Vehicle Lab. Image credit: Intel
Intel Corp. has opened its Advanced Vehicle Lab in Silicon Valley in an effort to move the ideas of self-driving cars to reality.
The Silicon Valley lab joins Intel's other labs in Arizona, Germany and Oregon in order to better understand the requirements of autonomous vehicles and the future of transportation, including sensing, in-vehicle computing, artificial intelligence, connectivity and cloud technologies and services.
As part of the lab, Intel's Autonomous Garage Labs will work with both customers and partners to discover new ways to get data inside the vehicle, across the network and in the data center. Intel says it will use different computer systems and sensors to help gather data, test real-world driving and collaborate with teams on research efforts.
Some of the partners in the workshop include BMW, Delphi, Ericsson and HERE. BMW showed one of the first of about 40 automated vehicles that were announced by BMW, Intel and Mobileye earlier this year. Delphi provided rides in its fully autonomous vehicle while Intel and Ericsson showed the progress being made toward 5G for autonomous driving.
Intel will use the lab to provide technical courses on autonomous driving data challenges and its impact on everything related to autonomous driving such as the autonomous car brain, data center planning and design, network infrastructure and artificial intelligence needed to process, understand, manage, move, share, store and learn from the data.