Tesla Motors is making a huge push into autonomous driving by making every new vehicle produced in its factories—including the Model 3—include the hardware needed for full self-driving capability.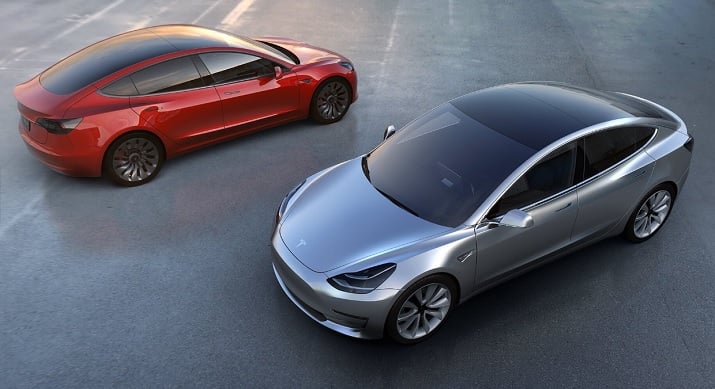 Tesla will include full autonomous driving hardware in its Model 3 electric vehicle when it is available in mid-2018. Source: Tesla
Tesla believes autonomous driving will be substantially safer than a human driver, can reduce congestion in major cities, and will provide low-cost, on-demand mobility for those who do not own vehicles. However do not expect self-driving to be available right away, because Tesla will not activate the system until it conducts further tests.
The technology will include eight surround cameras that will provide 360-degree visibility up to 250 meters of range. This is enhanced by 12 updated ultrasonic sensors allowing for detection of both hard and soft objects at nearly twice the distance of the prior system. Also included is a forward-facing radar that can see through heavy rain, fog, dust and the car ahead.
Because this new technology will require the vehicle to process large amounts of data, Tesla has added an onboard computer with more than 40 times the computing power of its previous generation in order to run the neural net for vision, sonar and radar processing.
Tesla says the Model S and Model X vehicles already in production will be equipped with the hardware, and the future Model 3 will also include the technology when it rolls off the assembly line in mid-2018.
Real-World Tests
Because autonomous driving still has a long way to go before being ready commercially or legally, Tesla plans to calibrate the system by using real-world driving to the tune of millions of miles to make sure safety is assured. As a result many of the hardware features will not be available, such as automatic emergency braking, collision warning, lane holding and active cruise control.
Tesla says as these features get validated, it will enable them via over-the-air software updates, along with other new features that the company is developing.