Ford Motor Company will invest $1 billion over the next five years in Argo AI, an artificial intelligence company, to develop a virtual driver system for Ford's autonomous vehicle.
Argo AI, founded by former executives from Google and Uber, is working on robotics and artificial intelligence to be used for self-driving cars. Ford says it will use the technology from Argo to create a new software platform for a self-driving car coming in 2021. Ford may potentially license its platform to other companies as well.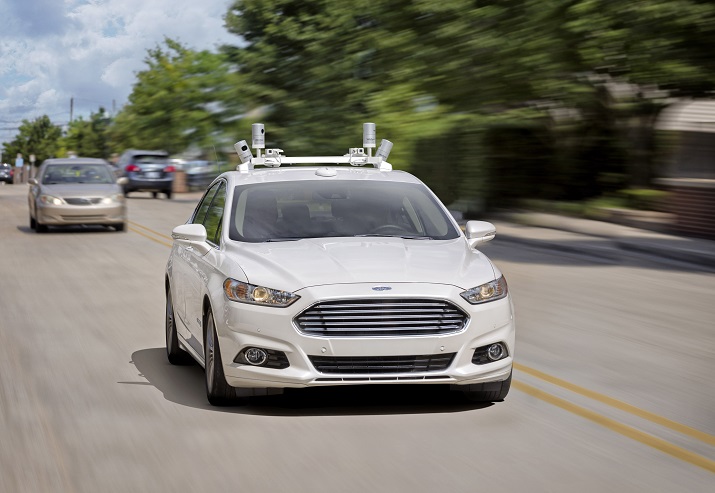 A fully autonomous Ford Fusion hybrid is tested in Michigan as part of the research to launch a self-driving car by 2021. Source: Ford "The next decade will be defined by the automation of the automobile, and autonomous vehicles will have as significant an impact on society as Ford's moving assembly line did 100 years ago," said Mark Fields, Ford president and CEO.
Ford's engineers developing its virtual driver system—machine-learning software that acts as the brains in self-driving cars—will be combined with the robotics technology from Argo AI to work toward delivering SAE Level 4 self-driving vehicles. Ford will continue to develop its autonomous hardware platforms while the software side is being developed in conjunction with Argo.
By the end of this year, Argo will ramp up its employees to 200 headquartered in Pittsburgh and at other sites in Southeastern Michigan and the Bay Area, California. The initial focus of Argo will be to support Ford's autonomous vehicle development and production. Argo AI could license its technology to other companies and sectors looking for autonomous capability, Ford officials said.
Meanwhile, Ford Smart Mobility LLC will continue to work on a commercialization strategy for Ford's self-driving vehicles including how these cars will move goods and people such as ride sharing, ride hailing or package delivery fleets.