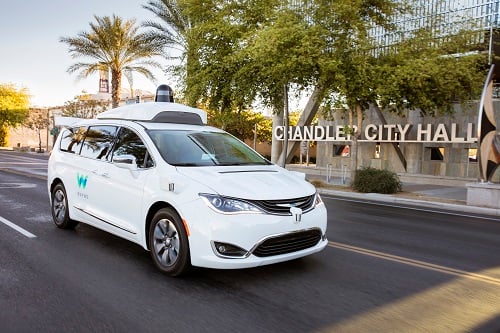 Waymo's fully self-driving Chrysler Pacifica Hybrid minivan on public roads. Image credit: Waymo Google's self-driving division Waymo is currently in a court battle with ride sharing giant Uber over alleged trade secret violations.
So what better time than to form an agreement with Uber's main competitor in Lyft.
Lyft and Waymo have agreed to an alliance to test autonomous vehicles in a pilot project involving ride sharing and Waymo's technology. The deal will also include product development efforts but details about what types of products the companies will work on is staying under wraps.
While Uber has been active in the autonomous vehicle space signing an agreement with Daimler for testing, launching pilot projects in Pittsburgh and in San Francisco, Lyft has not been as active and this agreement would be a way for the company to enter the market for autonomous vehicles.
"Waymo holds today's best self-driving technology, and collaborating with them will accelerate our shared vision of improving lives with the world's best transportation," Lyft says in a statement on the agreement. Lyft joins nearly every automotive car maker and numerous car start-ups that are currently at work on self-driving technology with the goal to have the technology available in the 2020 time frame. Tesla has been very active in getting autonomous driving technology into its vehicles while Daimler, Volvo, Ford, GM, Nissan and numerous others have their own plans for the technology. There are also plans from start-ups Lucid Motors, Faraday Future, LeEco and others for their own self-driving vehicles.