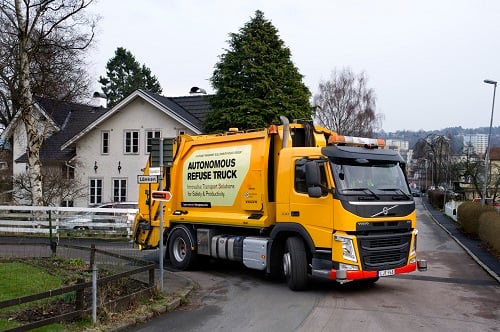 The self-driving garbage truck is fitted with sensors that drive to the next big for collection. Source: VolvoVolvo Group is working with Swedish waste management house Renova to test an autonomous refuse truck that could be used across urban environments.
The project's goals are to explore how automation could help with traffic safety, improved working conditions and lower the environmental impact of vehicles used to collection waste. The truck has been designed to work in urban areas to make the trucks safer than when operated by humans, especially in reverse.
"There is amazing potential to transform the swift pace of technical developments in automation into practical benefits for customers and, more broadly, society in general," said Lars Stenqvist, CTO of Volvo. "Our self-driving refuse truck is leading the way in this field globally, and one of several exciting autonomous innovations we are working with right now."
Sensors monitor the vehicle's location continuously and the truck stops immediately when an obstacle appears in its path. The truck can be pre-programmed with route information and it drives itself to the next refuse bin, Volvo says. The driver walks ahead of the reversing vehicle to focus on waste collection and not having to climb into and out of the cab ever time the truck moves to a new bin.
The truck maximizes fuel consumption and emissions by optimizing the gear changing system, steering and speed of the vehicle. Another benefit is to the occupational health of the drivers that commonly suffer knee joint issues associated with refuse collection, Volvo says.
The joint project with Renova will continue through 2017 and the truck is currently being fitted with a sensor system for identification, navigation and monitoring.