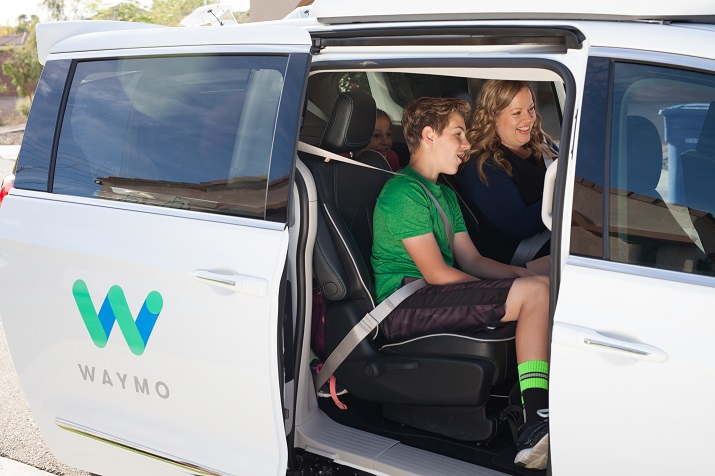 Waymo's minivan fleet will expand six-fold in order to give more people access to the Early Rider project. Source: Waymo Google's self-driving car branch, Waymo, is asking for volunteers to take part in its Early Riders program that will allow people in the Phoenix area to get a free lift in a hybrid autonomous van.
The program will be accepting hundreds of people with diverse transportation needs who want to ride in and give feedback about the autonomous Waymo vehicles. Waymo says instead of just providing one or two rides to people, the goal of Early Riders is to give participants access to Waymo's entire fleet of cars every day, at any time and to go anywhere in an area about twice the size of San Francisco.
In order to meet the demand for this new program, Waymo has ordered an additional 500 self-driving Chrysler Pacifica hybrid minivans to the fleet. This will give more people access to the self-driving vehicles and give Waymo a large source of feedback about how the cars operate, what needs improvement and how the vehicles perform every day in real-world situations such as going to a soccer game or the grocery store or picking up the kids from school.
The additional 500 minivans will be added to the 100 self-driving Pacifica minivans Waymo has been using on public roads, which represents a six-fold increase, the company says.
More than any other self-driving vehicle tester, Google's Waymo has logged the most miles as it has been testing the vehicles for the past eight years. The Early Riders program will look to see how autonomous driving benefits real people with real transportation requirements. Along the way, Waymo hopes to learn about where people like to go in a self-driving car, how they communicate with the vehicles and what information and controls they want inside the car.
If you are in the Phoenix area and want to apply for the Early Ride program, visit: www.waymo.com/apply.