Tesla Motors' CEO Elon Musk recently stated at the company's Autonomy Day event that the dawn of robotaxis is coming, and he is confident that ride-hailing services using self-driving cars will begin in 2020.
Musk said that there could be up to 1 million robotaxis active on the roads by this time period. This explosion is due to a number of reasons. First, ride-hailing has become a staple for traveling. People use the service for commuting types - every day for getting to work, going back and forth to the airport, after a night out or just general transportation. This does not even include the growing food and parcel delivery business that has cropped up.
Second, the proliferation of electric vehicles and self-driving cars is generating new ideas on how to encourage the use of vehicles. Robotaxis could go a long way toward reducing air pollution if car-sharing and ride-hailing become more popular.
Self-driving cars have led to new manufacturers, suppliers and services in the automotive market, while a simultaneous shift occurs among traditional automotive OEMs to focus heavily on electric cars.
As a result, the robotaxi market is becoming a hot commodity with numerous players vying for control of the market.
Uber and Lyft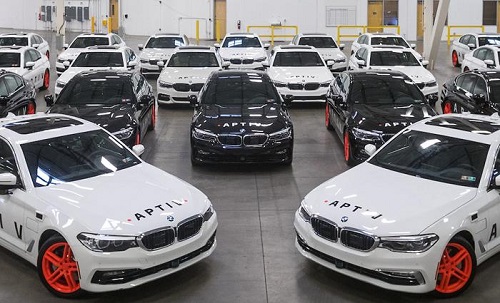 Lyft is working with Aptiv to develop self-driving autonomous vehicles. Source: Aptiv Currently, Uber and Lyft control the U.S. market for ride-hailing. Both companies have active programs to develop self-driving vehicles to further their businesses.
Uber has been developing its autonomous vehicle program for a number of years, but had a setback last year after one of its autonomous vehicles killed a pedestrian. The tragedy caused fear to grow among consumers over self-driving cars, with 71% of people saying in a recent AAA survey that they were afraid to ride in an autonomous vehicle.
However, since that time, the company has regained its footing and recently raised $1 billion to accelerate its automated ride-hailing services, with Toyota being one of the lead backers. Given Uber's penetration in the ride-hailing market, it will be one of the major players moving forward.
Lyft has been working on its own self-driving program, working with Aptiv, a maker of self-driving mobility technology, to integrate its automated technology into a fleet of test Lyft vehicles. So far, the company has conducted more than 25,000 self-driving car rides in Las Vegas since it began its program in 2018 and also unveiled a Level 5 autonomous vehicle that is being tested in the San Francisco Bay area.
Lyft has been working to integrate electric vehicles into its fleet as it has pledged to become carbon neutral. The company plans to introduce thousands of electric vehicles this year for cleaner transportation options, to increase net earnings of drivers and to reduce air pollution. Much like Uber, given Lyft's status as one of the leaders in ride-hailing, it will likely be one of the front-runners for robotaxis as well.
Waymo
No other company has been developing automated vehicle technology longer than Waymo, a division of Google. The company has surpassed more than 10 million miles of public road testing across 25 cities in the U.S. The company has also logged more than 7 billion miles in a virtual, simulated environment practicing and fine-tuning software for autonomous driving validation.
Waymo began testing a automated ride-hailing service in Phoenix as part of its Early Rider program. After testing the service on a few consumers for free, Waymo began charging and plans to roll out a larger commercial service maybe as soon as this year. Given Waymo's extensive testing of self-driving cars and that it has already started a commercial robotaxi service, Waymo may be serious long-term competition to Uber and Lyft.
Tesla
Tesla is one of the reasons electric vehicles are becoming more popular, in part due to the attractiveness of the vehicles that it manufacturers. With a strong demand for its vehicles, Tesla switched to focusing on building automated technology, as it saw this as the next great innovation in the automotive space.
According to Musk, all of the vehicles Tesla is manufacturing right now have automated technology inside and all that it would require to enable this feature would be a software update. Musk said he is confident that by 2020 Tesla will have robotaxis on the road. With strong backing and loyal customers, Tesla could also be a challenger for the next phase of ride-hailing.
Ford and GM
Both Ford and General Motors recently had reorganizations that included layoffs, but they in turn invested further in electric vehicles and self-driving cars.
Ford has been testing its own trials of autonomous vehicles and has invested $4 billion in the future of automotive technology, including enhanced mobility such as moving people and goods through ride-hailing and delivery. Simultaneously, Ford is developing delivery vans to further its parcel and food delivery business capabilities.
GM, through its self-driving car division Cruise Automation, is also testing automated driving and received $3 billion in funding for future transportation technology, including building a fleet of automated robotaxis for ride-hailing and ride-sharing.
Outside the U.S.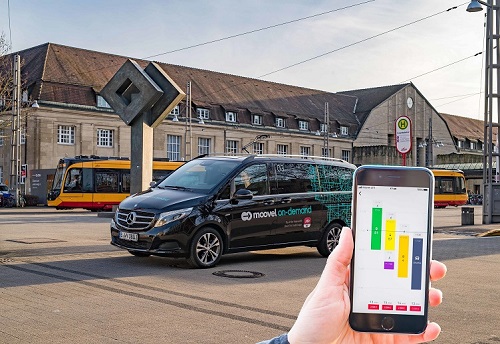 Daimler and BMW are combining their ride-sharing services and will integrate future transportation technologies as it develops. Source: DaimlerWhile many of these robotaxi services will be exclusive to the U.S., other automotive players are gearing up for automated ride-hailing services in the rest of the world.
BMW Group and Daimler AG last year agreed to combine mobility services and form a joint venture with the goal of enabling sustainable urban mobility. Their companies Mytaxi, Chauffeur Privé, Clever Taxi and Beat services will be combined to reduce traffic and parking issues in cities.
Both BMW and Daimler are working on electric vehicles and self-driving capabilities that will be ported to these services as they come online. Daimler also recently expanded its Car2go car-sharing service to France for city riding.
A host of companies are heavily investing in the world's largest market for vehicles: China. IHS Markit forecasts that China will become the largest market for autonomous cars in the world in the next decade. Because of this, virtually all automotive OEMs are competing in this market.
Volvo and Baidu are teaming up to develop electric and self-driving cars with an aim to mass manufacture the vehicles and create ride-sharing capabilities. The Renault-Nissan-Mitsubishi alliance also invested in Chinese startup WeRide.ai, which will deploy a fleet of self-driving vehicles in China for future transportation services.
New Mobility is a joint venture in Israel of Volkswagen, Mobileye and Champion Motors to launch a self-driving, ride-hailing service in the country. The goal is to test a fleet of vehicles this year and beyond, with a commercial launch in 2022.
Meanwhile, other companies working on ride-hailing, self-driving services either on the hardware or software front include AImotive, Argo, Aurora, Drive.Ai, Keolis, Navya and Torc.