Earlier this week, Volvo Cars signed an agreement with Autoliv to form a new company that will work toward autonomous driving and advanced driver assistance system (ADAS) software that will be based out of the town of Gothenburg, Sweden (Read: Volvo and Autoliv Partner for Autonomous Driving Software).
However, prior to that endeavor beginning operations in early 2017, Volvo is kicking off its Drive Me initiative—a public autonomous driving experiment in Gothenburg. The project will involve the Volvo XC90 SUV self-driving vehicle that will be the first in a series of autonomous cars that will be handed off to real families in the city to be driven on public roads.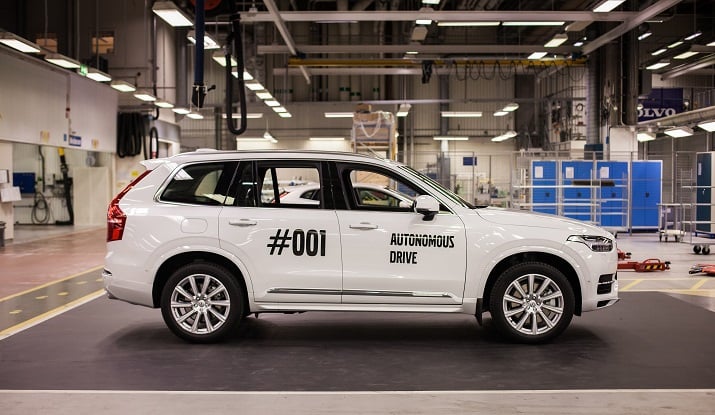 The first XC90 SUV self-driving vehicle that will be the first in a series of autonomous cars that will be used in the Gothenberg Drive Me project. Source: Volvo The Drive Me initiative and the collaboration with Autoliv is an effort, Volvo says, to reduce car accidents, ease congested roads, reduce pollution and allow drivers to use the time in their cars more valuably.
Volvo currently offers semi-autonomous features in its Pilot Assist technology on its 90 series cars, which keeps cars properly aligned with lane markings up to 130 km/h without the need to follow another car. The Drive Me initiative will add hands-off and feet-off capability in special autonomous driving zones around Gothenburg.
The project will allow Volvo to collect feedback and input from real drivers using these autonomous cars in their everyday lives and then use that information in order to fine-tune the technology to make it possible for a commercial introduction around 2021.
"This is an important milestone for the Drive Me project," says Erik Coelingh, senior technical leader of active safety at Volvo Cars. "Customers look at their cars differently than us engineers, so we are looking forward to learning how they use these cars in their daily lives and what feedback they will give us."
The pilot project in Gothenburg is the first in a planned series of public trails by Volvo for autonomous driving. A similar project will be launched in London next year, Volvo says, and the company is also taking bids from interested cities in China, where it expects to launch a Drive Me project in the next few years.
To contact the author of this article, email engineering360editors@ihs.com