Automotive chip supplier Bosch has announced it will work with Nvidia to develop an artificial intelligence self-driving system for the next generation of vehicles.
Bosch will leverage Nvidia's deep learning software and hardware that allows vehicles to be trained while driving, operating autonomously, and updated over the air with new features and capabilities. Bosch's AI system will be based on Nvidia's upcoming superchip Xavier with DRIVE PX technology. Xavier is touted as being the first single-chip processor to achieve Level 4 autonomous driving, which is classified as enabling a vehicle to take control of a car in all but a few environments, meaning driver attention is not required.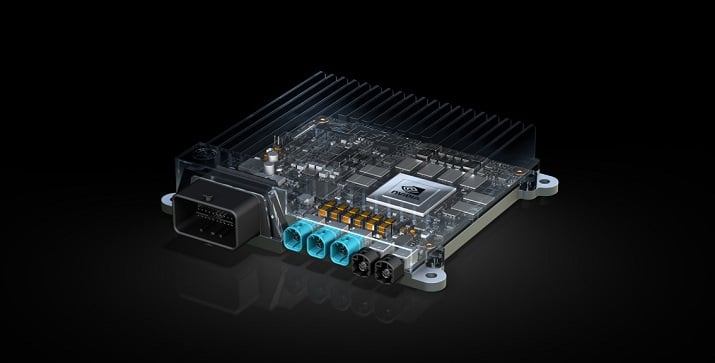 A rendering of the Bosch self-driving AI car computer under development with Nvidia. Source: Nvidia Nvidia says Xavier will be able to handle the massive amount of computation required for self-driving tasks, such as running deep neural nets to sense surroundings, understanding the 3-D environment, localizing on a HD map, predicting behavior and positioning of other objects, as well as computing car dynamics and a safe path forward.
"Automated driving makes roads safer, and artificial intelligence is the key to making that happen," says Dr. Volkmar Denner, CEO of Bosch. "We are making the car smart."
Nvidia has been pushing full bore into the autonomous driving segment, racking up design wins with start-ups, powering electric self-driving prototypes that may represent the future of driving, partnering with Tesla Motors for its autonomous program and pushing its own self-driving platforms, including the DRIVE PX platform, to mass customers.