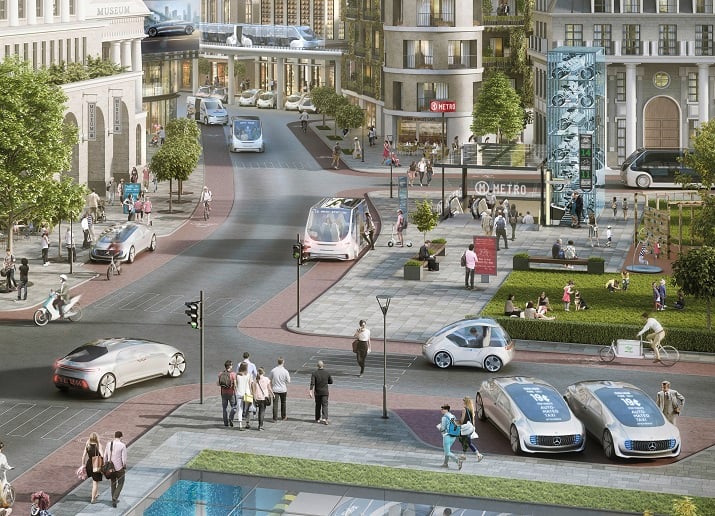 A concept of Daimler and Bosch's goal to bring robot taxis or car sharing to urban areas using just a smartphone. Image credit: Daimler
Two of the biggest players in the automotive space are teaming up to develop fully autonomous cars by the end of this decade.
Bosch and Daimler have entered into a development agreement to bring fully automated (Level 4 SAE autonomous standard) and driverless (Level 5 SAE) vehicles to urban roads in the next five years. The objective of the agreement is to develop software and algorithms for self-driving. The combination of technologies will enable the earliest possible series introduction of the technology, the companies say.
Both fully automated and driverless vehicles in an urban environment will help ease the flow of traffic in cities, improve safety on the road and provide a building block for the way traffic will work in the future, the companies believe.
Proliferation of Car Sharing
One goal in the partnership will be to boost the attraction of car sharing. An autonomous, driverless car can allow car owners to use their vehicles as a sort of a robot taxi as well as give mobility options to people without a driver's license, Daimler says.
Production-ready autonomous driving vehicles in a city would be able to drive to a car owner rather than a car owner going to the vehicle. Car share customers could order an automated share car via a smartphone and it would make its way to the user and automatically deliver them to their destination.
Daimler has put its foot on the accelerator when it comes to autonomous driving and car sharing recently signing an agreement with Uber for both car sharing and global ride sharing involving Uber's self-driving car technology. The company also began its car sharing platform in Germany late last year called Croove that allows consumers to select vehicles via a smartphone that are available for rent from car owners.
Bosch has also been investing heavily in the realm of autonomous driving just last month stating it would work with Nvidia to develop an artificial intelligence system for self-driving cars.