IBM and BMW Group have signed an agreement to work on bringing Watson cognitive computing to vehicles and to create native driver support systems for cars of the future.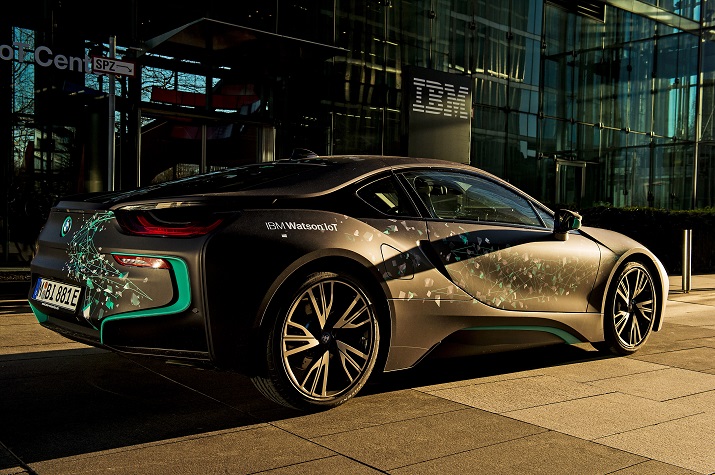 Four BMW i8 hybrid sports cars will be used to test different vehicle functions controlled by IBM's Watson cognitive computing. Source: IBM Under the agreement, the companies will partner to explore how to improve assistant functions for drivers by working side-by-side at IBM's global headquarters for Watson Internet of Things (IoT) in Munich, Germany. This will be the first time two companies will join together inside IBM's Munich-based building, where BMW engineers will work alongside IBM's own team.
Four BMW i8 hybrid sports cars will be used at the Watson IoT headquarters to develop prototype solutions running on IBM's Bluemix cloud platform, in order to demonstrate how Watson can enable conversational interfaces between cars and drivers, IBM says.
Watson cognitive computing allows vehicles to learn about the preferences, needs and driving habits of their drivers over time, tailoring a driving experience to each driver to improve levels of comfort and safety. The car's manual will be integrated into Watson, so drivers can ask questions about the vehicle in natural language while still focused on the road. The goal will be to incorporate data from IBM's Weather Company as well as updates about route, traffic and vehicle status in real time.
IBM says that as vehicles are becoming part of the IoT, it is transforming the way consumers' lives and expectations are changing. With more onboard sensors and computers inside a vehicle, conversational interfaces are enabling drivers to interact with their vehicles more naturally. And with machine learning, cars can get to know drivers better and personalize the experience, the company says.
IBM lists six ways that cars are changing due to technology, including:
Cars are becoming more self-healing with the ability to diagnose and fix themselves without human help.
Vehicles are able to connect with other vehicles around them.
Cognitive capability is allowing vehicles to learn and give advice based on the behavior of the driver or passengers, or even other cars.
Technology is advancing rapidly, allowing autonomous driving to become a future possibility in all cars.
A vehicle can adapt to a driver's personal preference by self-configuring anything, from seat height to a favorite destination.
Like other smart devices, cars are now integrating traffic, weather and mobility events as they move around.