Not surprisingly, there was a lot to see at last week's CES 2020.
There were gadgets, electronic devices, robots, smart home devices, Amazon Alexa everything, holograms, devices to help the sleep-deprived and, as usual, numerous far-off futuristic prototype vehicles.
But here's what caught Electronics360's eye the most.
1) Prinker S
Prinker brought to CES its Prinker S smart temporary tattoo machine that sprays ink onto the skin in a variety of designs. The device uses cosmetic ink-filled cartridges either in black or colored ink, and users can place the device virtually anywhere on the body and simply press a button.
The device costs about $269 and the ink cartridges are about $150, which makes it a bit expensive to be a novelty item. But for those into temporary tattoos, this is a must-have for ease of use. The company said the gadget could even be used for art projects at school, or during weddings, birthday parties and other events.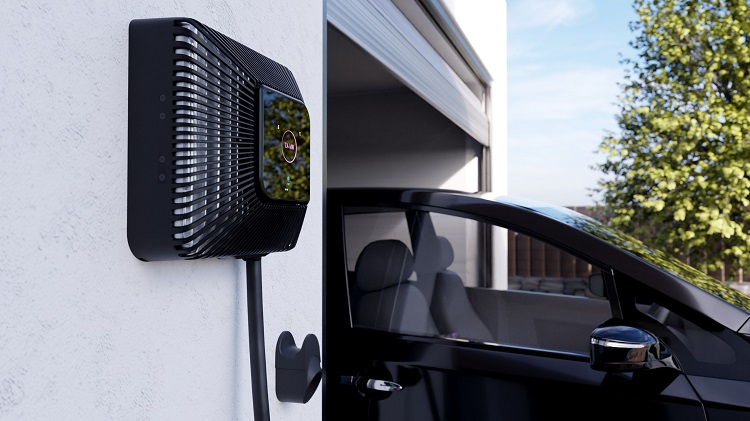 This is billed as the first bidirectional charger for the home. Source: Wallbox
2) Quasar
Billed as the first bidirectional electric vehicle (EV) charger for the home, Quasar by Wallbox not only charges EVs, but will also send electricity back to the grid or use it to power a home.
Shown at CES for the first time, the charger is compatible with solar and battery storage systems, bringing renewable energy generation to the home and vehicle without even being on the grid. The whole system can be controlled through an app and features facial recognition and gesture control technology as well.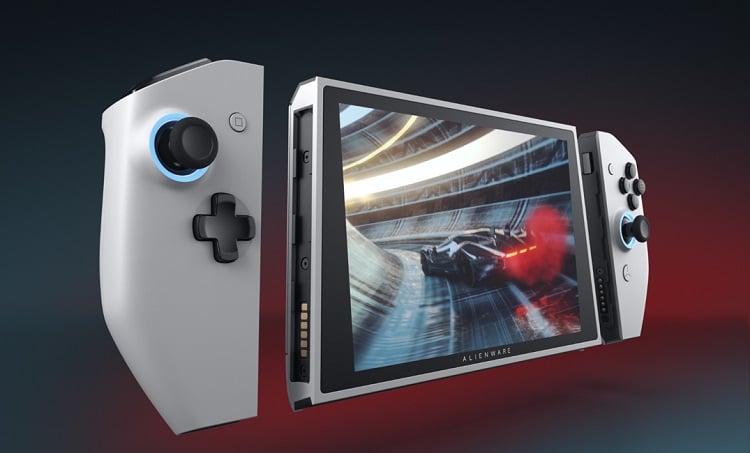 A prototype of a new gaming system with detachable controllers. Source: Dell
3) Concept UFO
Dell Computer's Alienware brand brought to CES a new concept mobile gaming platform called UFO that includes an 8 in, 1,900 x 1,200 resolution screen with detachable controllers. The controllers can separate from the screen and the gamer can kickstand on a surface to game or stream, or the user can connect to an external display using the detached controller. It also allows users to use a mouse and keyboard just as with any other PC.
Dell said it developed UFO with ergonomics and design features by enhancing the buttons, the weight and battery life. The portable gaming platform uses 10th generation Intel Core processors along with Wi-Fi, Bluetooth and Thunderbolt.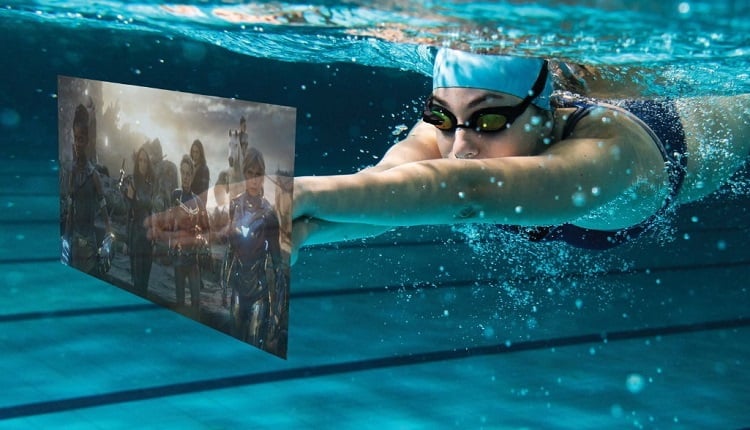 These smart glasses could eventually play entertainment for swimmers. Source: Vuzix
4) Smart Swim
There were plenty of virtual reality (VR) and augmented reality (AR) goggles introduced at CES this year, but swimming glasses designed for swimmers received two Innovation Awards for design and engineering. Smart Swim are smart glasses from Vuzix Corp. and they are designed for those participating in swimming interval training. The device provides swimmers with a workout status, offering details such as elapsed time, yardage and laps, as well as the ability to connect to a swim coach.
The smart glasses also allow swimmers to record their workouts, stream videos and replay the recordings on a video player. It also works in a pool or open waters. The company envisions that the smart glasses could eventually play videos or movies, giving swimmers the option to be entertained during a workout. Features include a full-color display, Wi-Fi, Bluetooth, head tracker, GPS, compass, internal battery, USB and more.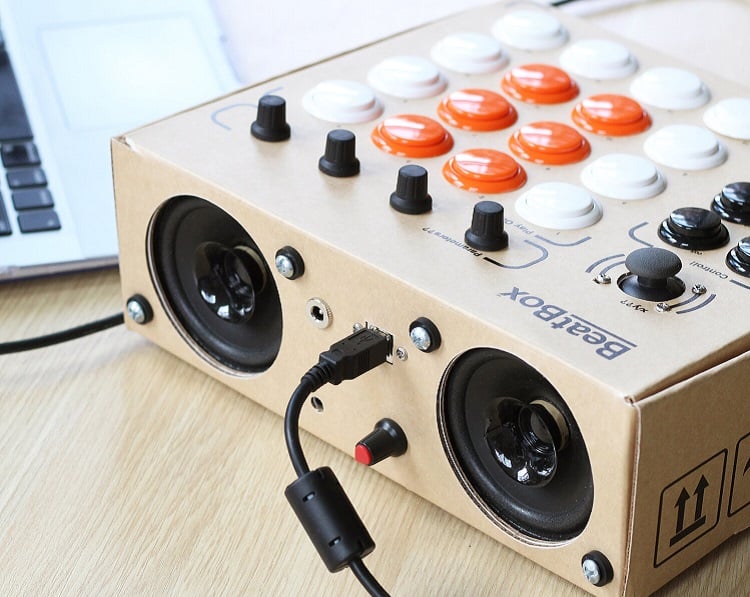 A DIY drum machine. Source: Rhythmo
5) BeatBox
Rhythmo brought its BeatBox, a DIY MIDI controller drum machine kit and mobile studio for professionals or anyone who enjoys putting together a beat, to CES.
The surface of the BeatBox contains 16 30 mm arcade buttons that act as performance pads for finger drumming. There are four parameter control knobs that also function as buttons and other knobs control the volume. There is also a multi-purpose joystick that works as a menu navigator for the companion app and can be used to control an X-Y effector. In the back of the box are two 50 W speakers, a USB port and a charging port.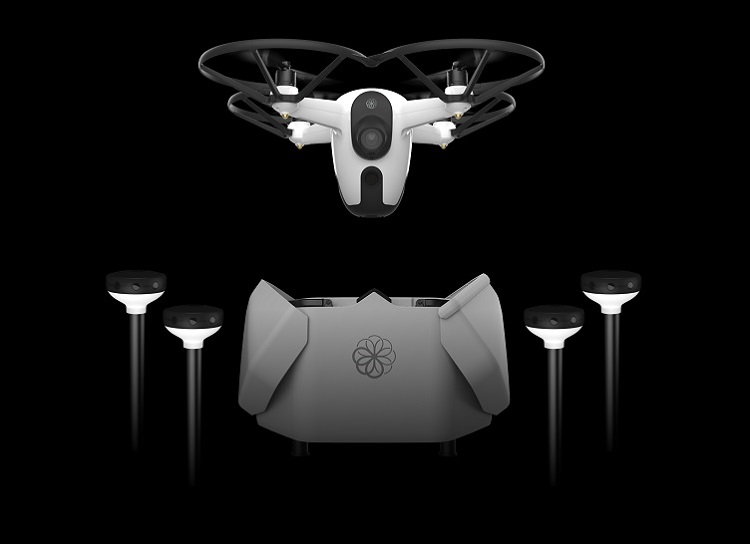 A home security system with a drone for surveillance. Source: Sunflower Labs
6) Home Awareness System
There were numerous security products unveiled at CES this year along with some innovative drones, but one security system combined the two. Sunflower Labs' Home Awareness System brought a new level of security to the home security system with an autonomous drone, motion and vibration sensors and charging station.
The system's motion and vibration sensors, called Sunflowers, are disguised as garden lights that constantly monitor a homeowner's property. These sensors can differentiate between animals, cars and people and that information is displayed on a map in real-time. Meanwhile, the Bee is the autonomous security drone that navigates above a property in order to observe activity. The drone includes automatic deployment, autonomous flight, ultrasonic collision-avoidance sensors, GPS and live streaming video.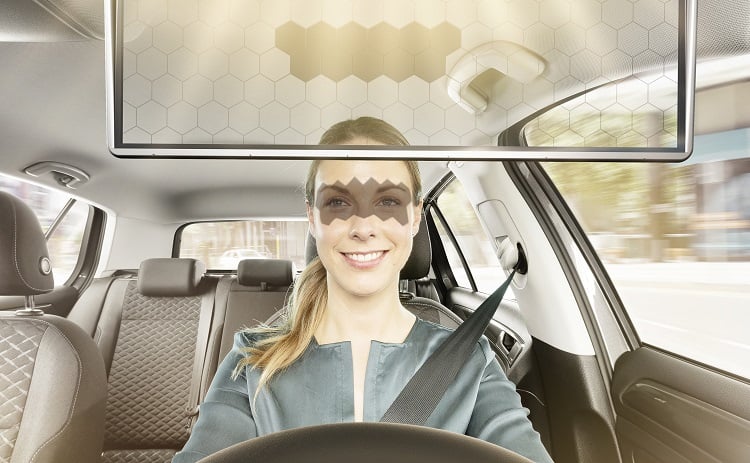 A smart car visor that replaces a vehicle's normal visor and blocks the sun. Source: Bosch
7) Virtual Visor
At CES 2020, Bosch debuted a Virtual Visor that is made up of a transparent LCD and an intuitive camera, replacing the traditional vehicle sun visor completely. The technology uses algorithms to block the sun's glare but not the view of the road ahead. The device links with a driver or occupant-monitoring camera to track the sun's casted shadow on the driver's face. The system uses AI to locate the driver from the driver-facing camera where the algorithm analyzes the driver's view, darkening only the section of the display where light hits the driver's eyes. The rest of the display remains transparent, no longer obscuring a large section of the driver's field of vision.
The Visor received a Best of Innovation Award at CES.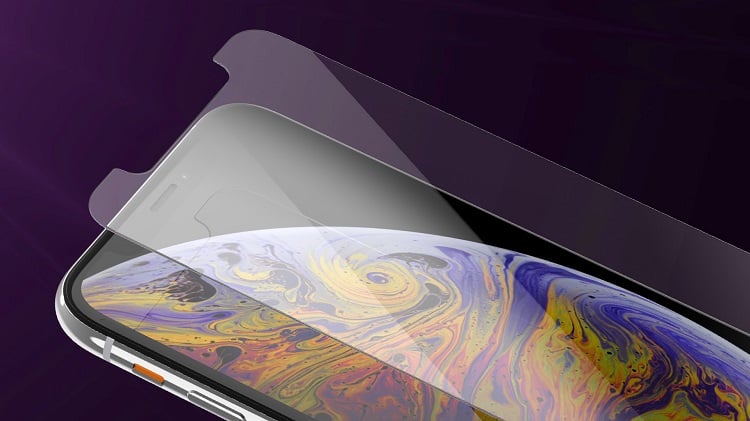 A filter for smartphones that helps fight germs and prevents glass scratches. Source: Otterbox
8) Amplify Glass
Smartphones are the most ubiquitous gadgets in the world. People tend to use them all day long to surf the web, text, browse social media and visit apps. Sometimes, users let friends or family use their phones, which results in the smartphones becoming packed with microbes.
OtterBox, the maker of rugged smartphone cases, has teamed with Corning to debut Amplify Glass, an antimicrobial screen that is embedded into the glass. In addition to being scratch resistant, the glass also helps keep germs at bay. The company has released the screen for Apple, Samsung and Google and plans to release it for future iPhones.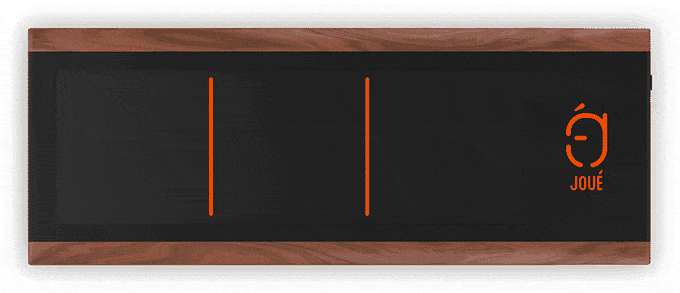 9) Joué Board
The Joué Board is a MIDI instrument that combines a sleek wood board with four silicon modules and a companion app to create music. The board can connect to mobile devices to drop modules onto the board and then make sounds ranging from a keyboard to a guitar.
The board, which was a CES 2020 Innovation Award Honoree, allows for mixing and matching of different modules on the fly to become a mixer module, traditional piano, electronic keyboard and more. The board can play and control software such as Ableton Live, Apple Logic, Native Instruments plugins and GarageBand.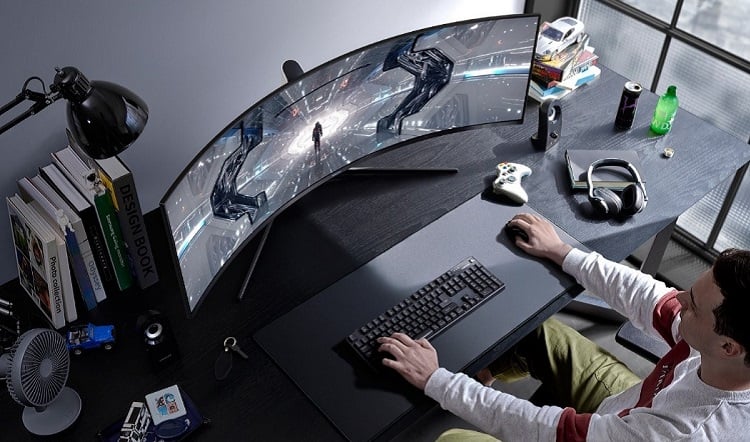 A huge curved monitor for gaming. Source: Samsung
10) Odyssey G9
Samsung introduced a new take on the curved gaming monitor with the Odyssey G9, a 49 in display featuring an ultrawide, 1,000 R-curvature screen, a 1 millisecond response time, a 240 Hz refresh rate, G-Sync compatibility and more.
International Data Corp. (IDC) forecasts that the market for gaming monitors will grow to 12.2 million units by 2023, up from about 7.8 million units in 2019.