Two Australian teenage boys were saved by a drone off the coast of Lennox Head, New South Wales yesterday.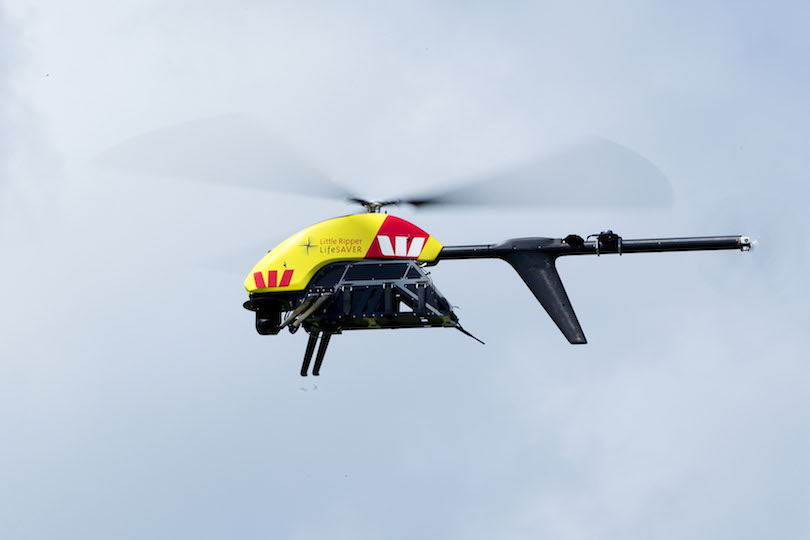 The Little Ripper UAV saved 2 boys lives yesterday. Source: Little Ripper UAV
Lifeguards were training with the new drone, designed to help save swimmers, when a beachgoer spotted the young swimmers struggling in the water about 2,300 feet offshore.
The Little Ripper UAV is a drone designed to help lifeguards with rescue missions by dropping inflatable rescue pods near stranded or hurt swimmers, giving them something to hold on to while the lifeguards make their way to them. This new safety drone could give swimmers and lifeguards a few extra minutes of swim time, which could be vital in saving lives.
The lifeguards were able to locate the swimmers within minutes of the call. They immediately sent the drone out to the swimmers, and it dropped a rescue pod to the swimmers, who grabbed it and made their way to land. Lifeguards met them on their way back and helped them to shore. The drone's camera recorded the successful rescue. If it weren't for the drone, it would have taken the lifeguards three times as long to reach the boys, which could have meant death for them.
The NSW state government invested $430,000 AUD in a fleet of drones for their beaches last December. Drone uses range from spotting sharks and rescuing swimmers to alarms and loudspeakers.
Ben Franklin, Parliamentary Secretary for Northern NSW, thanked the lifeguards for their incredible efforts. "It took only 70 seconds from when the Little Ripper drone was launched to when it dropped the pod into the ocean for the rescue, a task that would usually take a lifeguard up to six minutes to complete. This was an extraordinary rescue with the very best possible outcome," Franklin said.
To learn more about the drone, visit the site here.