During CES 2020, there are a number of interesting prototype vehicles on display.
These usually are the extreme when it comes to the future of vehicles, but sometimes some of the ideas find there way into future generations of vehicles. While pod-type vehicles have been the rage during prior years at CES — and they made an appearance at CES 2020 as well — there were more full featured vehicles rather than a modular place-and-swap approach.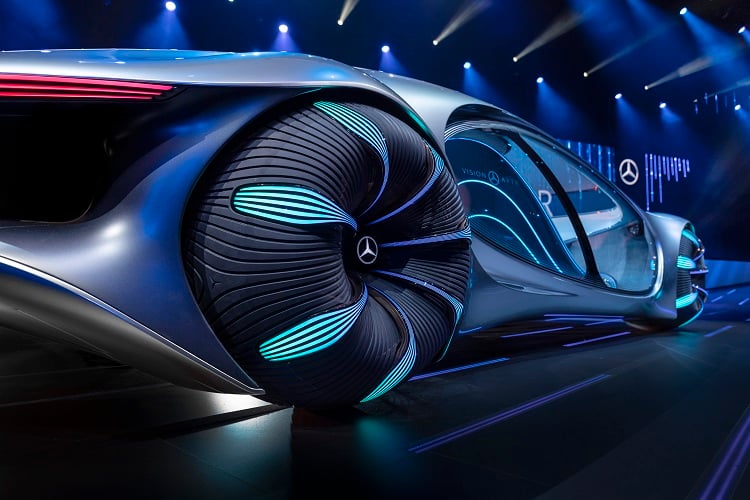 Mercedes-Benz's Vision AVTR prototype. Source: Mercedes-Benz
Vision AVTR
Daimler's Mercedes-Benz brand debuted the Vision AVTR at CES, a Tron-like vehicle developed with graphene-based organic cell chemistry that is entirely free of rare earths and metals. The battery is compostable and recyclable, making it a zero impact car in terms of its carbon footprint.
The prototype combines an interior, exterior and user experience (UX) that include a spherical wheelhouse, 33 multi-directionally movable flaps on the back of the vehicle for new interaction with its surroundings and digital neurons that flow from the concept vehicle for new ways of communication. Inside the Vision AVTR, passengers can use the car menu, which is projected onto the palm of the hand, allowing them access to different functionalities and to get multi-views of movies that are played on an augmented reality (AR) window.
Finally, the vehicle includes control and biometric connection from the center console, allowing drivers to control the vehicle with just a hand. The drive, in combination with the axis arrangement, allows for movement forward and backward as well as diagonally whereas most cars can only move sideways about 30°.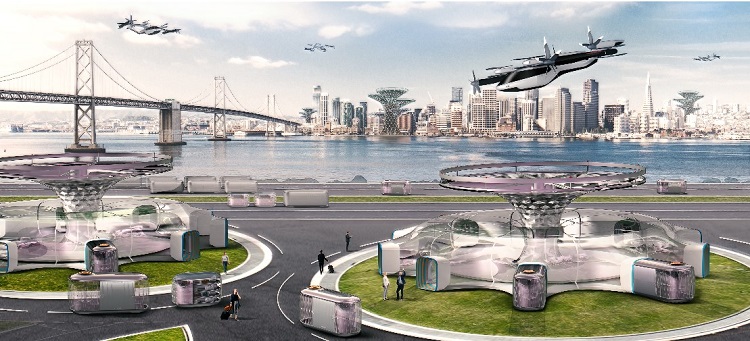 The PBVs are part of Hyundai's future smart city. Source: Hyundai
Purpose built vehicle (PBV)
Much like Toyota is doing with a real life smart city, Hyundai gave its own vision for the future of connected, urban mobility at CES including its PBV, which the company believes can become a living space on wheels, an alternate means of transportation, a cargo carrying vehicle or a multi-modal pod for use as a restaurant, coffee shop, hotel or even a mobile clinic.
Part of Hyundai's smart city involves a deal with Uber to create flying cars to be used as air taxis to carry people around the city if the PBV is not enough or does not go fast enough. While still just a prototype, the PBV is inspired by San Francisco's cable cars, but is highly customizable where the upper- and under-bodies can be adjusted in size from 4 m to 6 m.
The PBV would be fully electric in order to be environmentally friendly and feature artificial intelligence (AI) to navigate along routes and charge in-transit. It would also be autonomous and function as a platoon to support logistics around the smart city.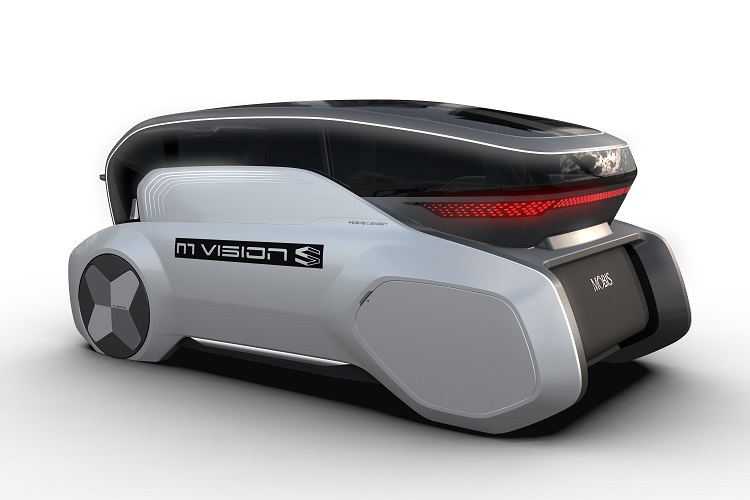 The M.Vision S prototype vehicle. Source: Hyundai MOBIS
M.Vision S
Hyundai's MOBIS division, meanwhile, presented its own vision of automotive vehicles of the future with the M.Vision S, an autonomous driving concept that uses hydrogen fuel cell systems.
The fully autonomous driving concept integrates autonomous driving, connectivity, electrification and advanced lighting. Driving sensors on-board the M.Vision S include cameras, radar and lidar, communication lighting, virtual space touch, 3D rear lamp, and a sound system.
Hyundai MOBIS plans to commercially roll out a Level-3 autonomous driving lidar system by 2021 with the help of lidar manufacturer Velodyne.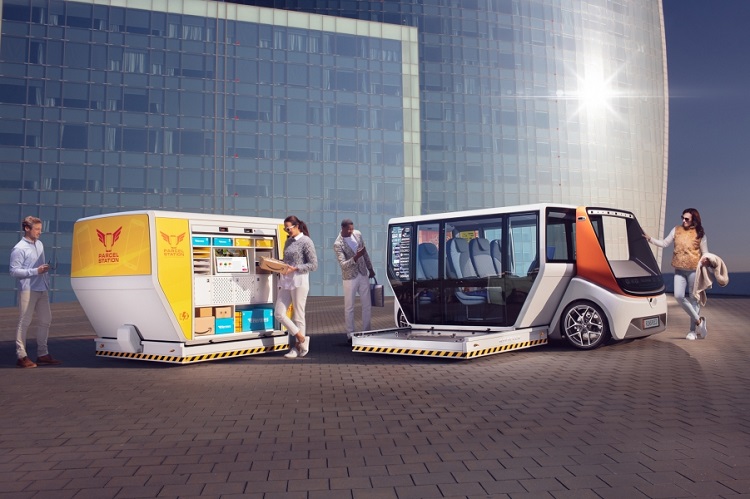 The MetroSnap prototype vehicle. Source: Rinspeed
MetroSnap
Swiss automotive vendor Rinspeed debuted its modular next-generation autonomous prototype at CES — a pod-type chassis that can swap between transporting people or goods.
The modular pod system, called MetroSnap, is a swapping system for vehicle bodies that uses different vehicle bodies either for transporting packages, delivering food or delivering people to destinations. Rinspeed said because of the flexibility of the modular pod system, it reduces the number of expensive and short-lived automated vehicles.
Some use case examples of the pod vehicles include customer-accessible parcel stations that are dropped off in a customer's neighborhood for a while or as a corner food shop or a new method of carpooling.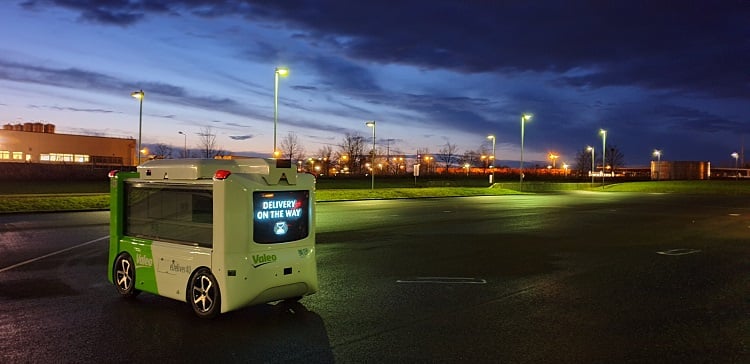 The Edeliver4U can swap bodies for delivery of goods or food. Source: Valeo
Edeliver4U
Valeo, a French automotive supplier, presented its autonomous, electric pod prototype vehicle for e-commerce and food deliveries for the Chinese market at CES.
The Edeliver4U prototype was developed with Meituan Dianping, a Chinese e-commerce platform for delivery, to demonstrate what last-mile delivery might look like in the future, especially with the growing number of zero-emissions zones cropping up around the world.
The prototype includes a delivery locker for safe delivery to end customers that can book the pod through a smartphone app. The prototype can deliver up to 17 meals per trip, autonomously traveling in urban environments at about 12 km per hour without generating any carbon emissions.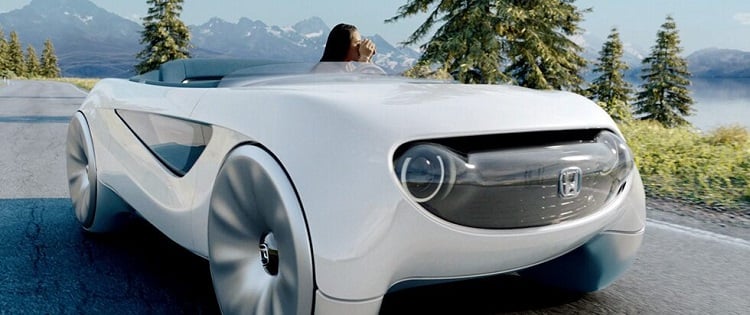 The Augmented Driving Concept. Source: Honda
Augmented Driving Concept
Honda's Augmented Driving Concept is designed to transition from a traditional vehicle to an autonomous vehicle. This prototype is a semi-autonomous car that is constantly on standby in the event the vehicle needs to be controlled. The system changes between automatic and manual modes and features eight modes between fully autonomous and semi-autonomous operation.
Sensors in the vehicle read the user's intention to shift between modes. The steering wheel also functions as the ignition sequence, which is activated by tapping the steering wheel twice to start the car. Pulling the steering wheel slows the vehicle and pushing the steering wheel allows the vehicle to accelerate.
Other functions of the car include a personal AI assistant that connects devices and controls cabin functions, a mobile power source that recharges from renewable energy and B2B networking opportunities.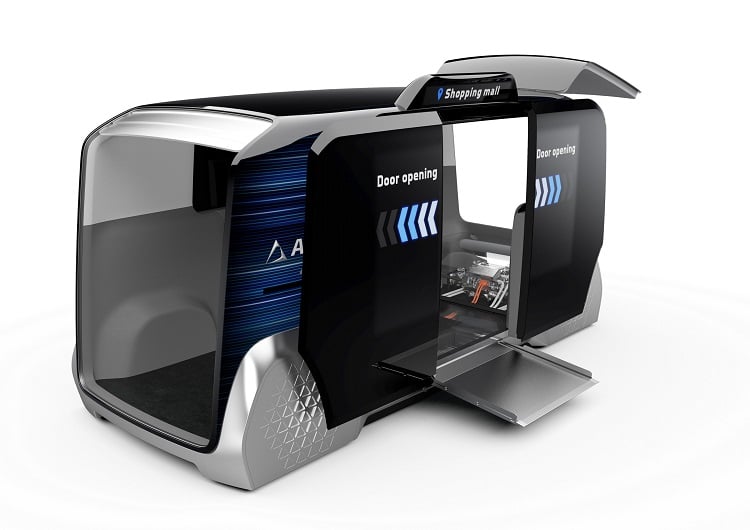 A bus-like ride-sharing vehicle for the future. Source: AISIN Group
I-mobility Type-C20
AISIN Group brought its second concept to CES in as many years in the I-mobility Type-C20, a bus-like ride-sharing vehicle that the company envisions as a community use car that would be connected, automated and fully-electric.
The driverless vehicle would be used for short destinations such as running to a store or for local shopping with a number of sensors outside the vehicle to detect obstacles and comfortable mobility. Inside the vehicle, an in-cabin monitoring system and location-based data are used to connect with external information resources for on-screen graphics that can change and respond to rider interest and local attractions.
The prototype uses safety systems designed for electric vehicles such as a regenerative brake system, electric ramp and lower, rail-free power sliding doors and heat management as well as optimal thermal control.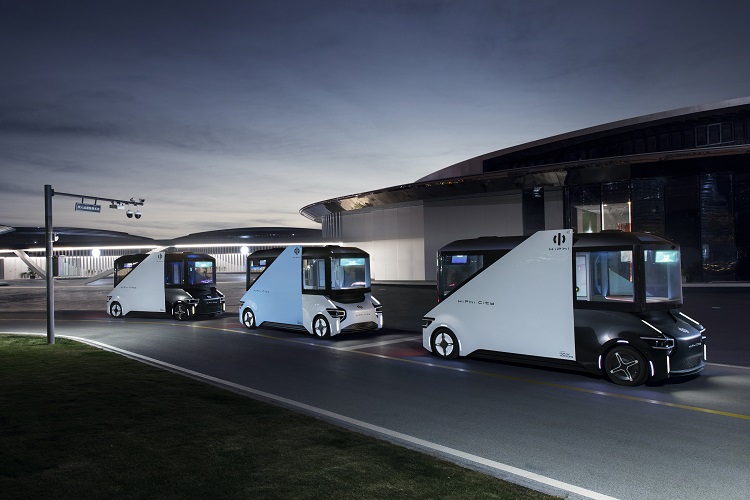 Human Horizons is part of the company's 3 Smart program. Source: Human Horizons
Human Horizons
The Chinese automotive company Human Horizons unveiled its prototype prior to CES as part of its vehicle-road-city project for smart cities. The plan is to integrate smart vehicles, smart roads and smart city infrastructure in a blueprint called 3 Smart.
The smart vehicle prototype is an all-electric bus that uses 5G, V2X, big data, cloud computing and AI as well as self-driving capabilities for anything from deliveries to passenger transportation to potentially hauling larger goods across multiple cities.
The company displayed how lidar technology could potentially work to support 5G networks and eventually for dual Level 3 redundant autonomous driving systems.