Every year at CES, one of the hottest items consumers want to see are the latest virtual reality (VR) and augmented reality (AR) headsets, and CES 2020 is no different with two companies set to unveil their latest devices designed for use cases such as playing games as well as for industrial markets like healthcare, manufacturing, aerospace, architecture, education and insurance.
ThirdEye has started commercial shipping of its X2 Mixed Reality Glasses designed for industrial markets looking to incorporate augmented and mixed reality into their fields.
The glasses feature 42° field of view, thermal and light sensors and a built-in proprietary simultaneous localization and mapping (SLAM) system called VisionEye. This system allows for mixed reality features that ThirdEye claims are not available on monocular devices. Other features include two grey-scale cameras, a 13 megapixel HD RGB camera, three-axis gyroscope, three-axis accelerometer and three-axis magnometer.
Overlay for the glasses include AR remote help and 3D SLAM CAD modeling and overlay. This is extremely helpful for workers in the field who need to consult someone in a home office.
ThirdEye has formed a partnership with software companies for the X2 glasses including Atheer, which will use the glasses to transform how car repairs at dealerships will be handled going forward. Another partnership is with ManoMotion, a maker of computer vision software, which will provide gesture recognition framework for augmented and mixed reality. This allows users to control the X2 Mixed Reality Glasses through hand gestures including clicking, pinching and moving to drag and drop in the field of view.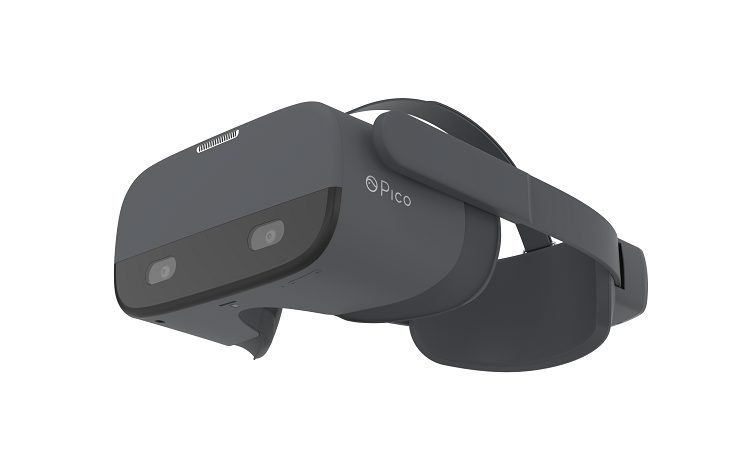 The Neo 2 VR headset. Source: Pico Interactive
Meanwhile, Pico Interactive has announced its Neo 2 VR headset, an all-in-one device with a 6° of freedom head and controller tracking. There are two models of the headset including the Neo 2 and the Neo 2 Eye.
The Neo 2 will incorporate FireFox reality and hubs by Mozilla for web browsing, which can collaborate online around virtual objects, spaces and tasks without leaving the headset.
Both models are powered by the Qualcomm Snapdragon 845 mobile platform and feature a 4K resolution, 128 GB of storage, XGB Ram, SD card slot, two electromagnetic controllers and hygienic replaceable PU face inserts. The models weigh only 340 grams.
CES 2020 takes place Jan. 7-10 in Las Vegas.