In nearly any popular science fiction movie, the vehicles of the future can do wild and amazing things like flying or driving by themselves or projecting all manner of information on the windshields.
Autonomous driving and flying cares are currently under development by all automotive OEMS and now holographic augmented reality (AR) displays for windshields are as well with the release of new transparent displays during this week's CES 2020.
While these windshields hold great promise, offering passengers and drivers in-view content, Eric Abbruzzese, research director for augmented reality at ABI Research, said AR windshields — which completely replace traditional windshields in vehicles — are years off, but it is likely AR heads up displays (HUDs) for the automotive market are likely to gain traction in 2020 before going mainstream in the years that follow.
"There's a chance that AR HUDs leapfrog traditional HUDs and we see ubiquity in AR before traditional, especially with some of the efforts being seen today by the likes of Continental and Bosch on the AR front," Abbruzzese told Electronics360. "Expanding to full windshields, is a more forward-looking discussion, but most likely cost will be prohibitive for the majority of the market."
AR HUDs are centrally located in a vehicle and display a limited visual focus area. This enables manufacturers to not worry about new automotive regulations. By comparison, AR windshields use regular glass either as the display substrate itself or to span content across the full area of the windshield, which may require additional safety regulations.
These types of HUDs and windshields will almost exclusively be built into the vehicles, Abbruzzese said, as it would be a "nightmare end-to-end" to get goggles or eyewear approved by regulations not to mention the uncomfortable factor of wearing these devices inside a car.
"There's some interesting capabilities with headworn AR, that means it shouldn't be totally discounted (e.g. a "virtual" 360 camera view around the car that can pass through external cameras to the HMD and allow drivers to see through their vehicle), but again there's some significant barriers," Abbruzzese said.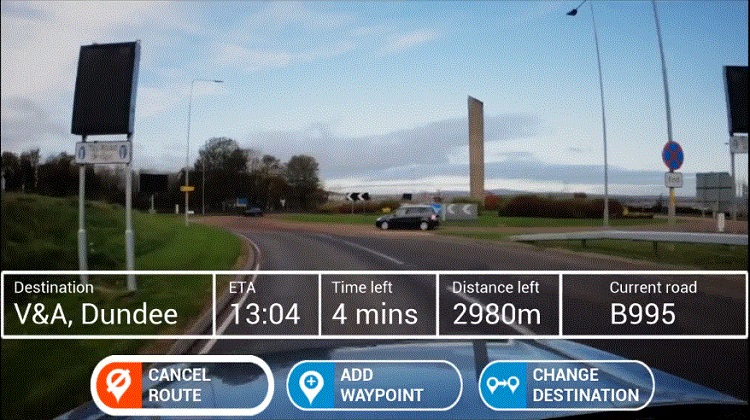 AR windshields could give drivers information about the vehicle as well as potential dangers or navigation points ahead. Source: Ceres
AR windshields
At CES, Ceres Holographics launched a new transparent display prototype that brings holographic optical elements (HOE) to vehicle windshields.
The full-color, in-car transparent displays can be used for the front, side and rear car windows powered by Ceres' HOEs for optical power illuminated with projects using Texas Instruments' (TI) automotive digital micromirror devices (DMDs). The holograph elements with the TI digital light projector (DLP) chipset reduces the projector package in vehicles.
"The automotive industry is undergoing a massive paradigm shift towards electric and autonomous vehicles that's fundamentally altering the driving and passenger experience and fueling demand for low-cost, high-performance transparent display and AR-HUD systems," said Andy Travers, CEO of Ceres Holographics, in a statement.
Ceres' display prototype would offer several holographic optical elements such as entertainment, navigation, information and notifications in full view of a passenger or driver. Abbruzzese said that while these represent the added value and better visuals of AR windshields, initially AR HUDs will be used primarily for navigation and notifications with entertainment eventually taking shape when self-driving cars become more of a reality.
Another interactive mixed reality windshield on display at CES 2020 is from Futurus Technology. The AR windshield combines real-world environments and hazards with contextual information about a vehicle's status, performance and surroundings. Futurus was a CES Honoree Award winner for its prototype technology and is working with automotive giant BMW on a solution for its future vehicles. Futurus did not discuss details of its partnership with BMW other than it will involve a full windshield rather than a HUD.
Futurus' windshield uses two independent functions. One layer that allows drivers to detect potential hazards up to 50 m in the distance (like cyclists, pedestrians or other objects in the road). A second function is for passengers' entertainment such as TV shows, movies, music and social media without driver distraction.
"Vehicle manufacturers must adopt MR technology if they want to offer a truly safe yet immersive experience in the next generation of vehicles," said Uber Wu, chief scientist at Futurus. "The technology is the first step towards a smart windscreen that delivers personalized, interactive in-car entertainment, e-commerce and enhanced safety features, thanks to split-screen technology that doesn't distract the driver."
Another AR HUD was demonstrated at CES by Altia with a system that can automatically identify hazards, mark routes and distances, provide location-based information and more.