CES 2020 is on the horizon and there are numerous gadgets, gizmos, devices, automotive prototypes and new semiconductors likely to be shown during the world's largest tradeshow. However, one thing that is always interesting to see is the latest robots that come to the show.
This year, the list of robots at CES will run the gamut from delivery, healthcare helpers, kids' toys, concierge devices and even a table tennis playing machine. While these are only a few of the robots that are likely to be shown, keep a look out for the following:
Neon
Maybe one of the biggest mysteries at CES is Neon, a secret project from Samsung. On its website, Neon is described as an artificial human with a timer that is counting down to the opening day of CES 2020. On the official Twitter page, there is little explanation about what Neon is, but the page does suggest that it has nothing to do with Bixby, Samsung's assistant for its mobile devices.
It is unknown if Samsung is developing artificial intelligence (AI) for robots or an actual robot is being designed for a specific industry. More will obviously be revealed in just a few days when CES starts.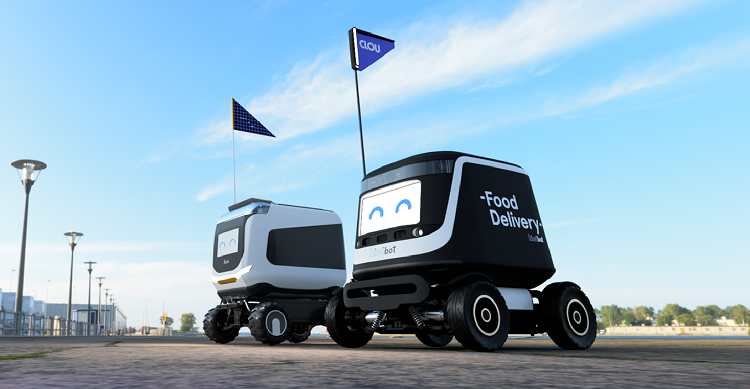 Delivery robots that carry food and other goods will get a new iteration at CES. Source: Kiwibot
Kiwibot
Kiwibot is a delivery robot that has already been deployed on a few campuses around the U.S. The company is currently working on a new generation of robots that it will deploy in 2020, which will yield improved logistics and service.
Each robot is connected to specific communication protocols where a cloud dispatcher can monitor the devices remotely.
The robots can be used as automated fulfillment machines or in warehouses and vending machines as points of storage and distribution.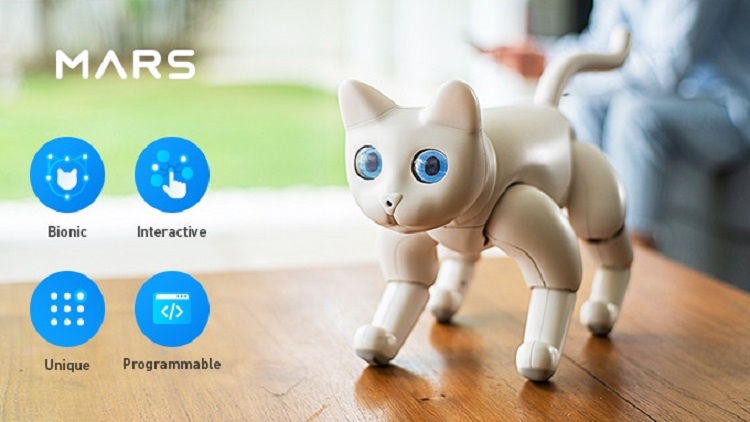 MarsCat has already surpassed its Kickstarter goal. Source: Elephant Robotics
MarsCat
Already a hit on Kickstarter through a successful campaign, MarsCat, developed by Elephant Robotics, is a robotic pet that is fully autonomous and can respond and sense interactions in a family.
The robot can feel touch, hear voices, see faces and play with toys. Powered by a quad-core Raspberry Pi, it can also be programmed for educational, research and commerce purposes.
The cat can walk, run, sleep, sit, stretch, bite its nails, knead and even dig through litter (but won't produce waste).
The Kickstarter for MarsCat is ongoing. To learn more, visit the campaign page.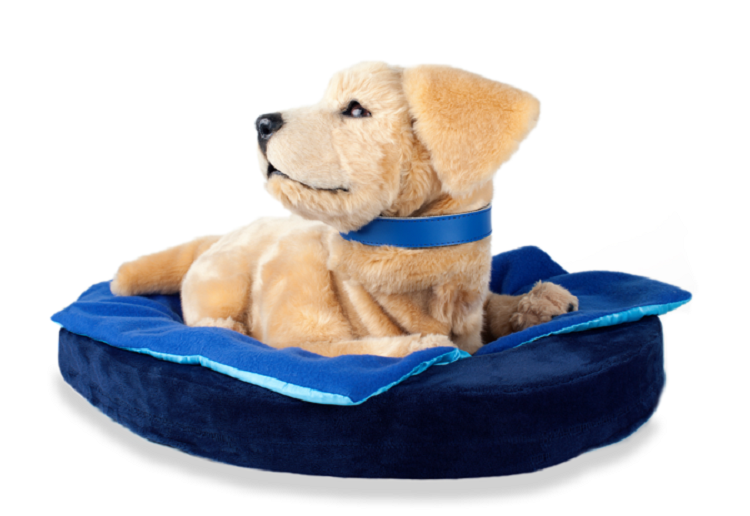 TomBot can be used to help the elderly with emotional or physical issues. Source: TomBot
TomBot
Another robotic pet is TomBot, which also recently completed a successful Kickstarter campaign. TomBot is designed primarily for elderly people who suffer from apathy, depression, anxiety, loneliness, frustration, aggression, hallucinations or dementia.
The goal of TomBot is to improve the quality of life for people with health problems or who have issues staying emotionally attached or socially engaged. The robot also reduces the amount of care that is involved with real pets as there is no cleanup or feeding necessary. This is especially important for the elderly who might have a hard time caring for themselves let alone a real animal.
However, animal companions are shown to reduce the need for medication and decrease healthcare-related problems. Robotic companions have shown to reduce dementia behaviors and help increase social engagement and other challenging behaviors in seniors.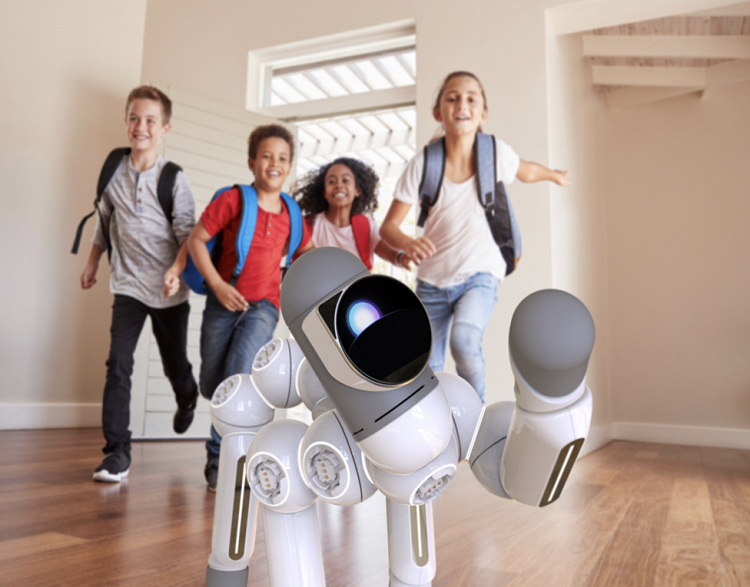 ClicBot helps kids learn STEAM skills. Source: Beijing KEYi Tech
ClicBot
ClicBot will debut as part of this year's Family Tech Summit at CES 2020 where attendees can be introduced to robots, STEM, augmented reality and more.
ClicBot was developed by Beijing KEYi Tech Ltd. Co., which offers smart modules to create robot buddies. The robot sidekick can help kids build, code and create a variety of different types of robots similar to how building blocks are used with other children's toys.
The robot can respond to interactions or hand gestures and, with help from built-in multiple sensors, learns to recognize family faces for a more personal touch, the company said. It will also develop its own personality and can play multiple games such as catch, dance battles, quizzes or even soccer matches.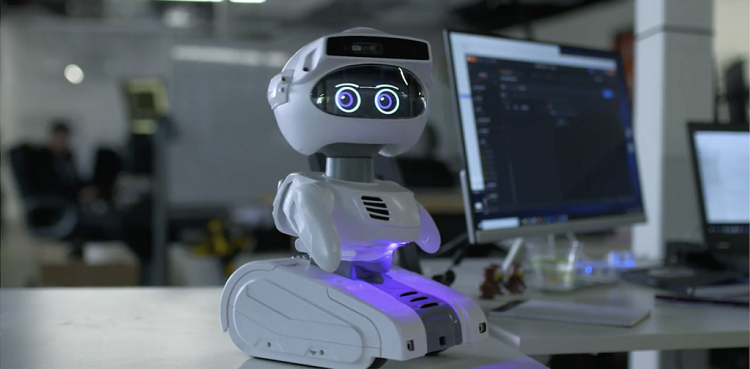 This robot can be used in anything from healthcare to data collection. Source: Misty Robotics
Misty II
Misty Robotics is bringing to CES 2020 its Misty II robot, which is billed as a professional grade platform for use in businesses, homes, research and education.
Since the debut of the robot, developers have been building skills for a variety of use cases such as eldercare, inventory data collection, home property inspection, environmental monitoring, autism therapy and personal engagement.
Misty II, which is available now for purchase, comes with tools and APIs for developers to build on the platform. It also comes with a pre-built command center, skill runner and an API explorer that can be navigated with a software development kit interface. Third party APIs, including those from Twilio, Microsoft and Google, can also be used as well as paired with developer boards like Arduino and Raspberry Pi.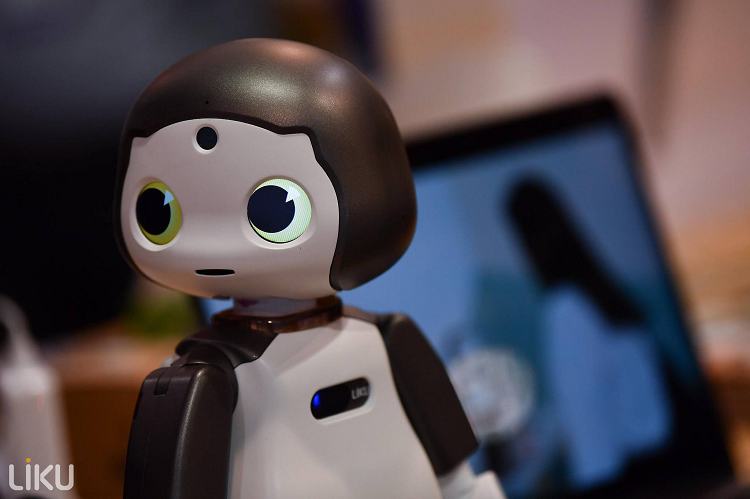 A tiny home companion robot that interacts with family. Source: Liku
Liku
Social robots may not be popular with consumers yet, but that has not stopped anyone from trying to create new ones that will appeal to the masses. Liku is a tiny humanoid robot that moves and expresses feelings autonomously. Measuring at just 1.5 ft tall and weighing only 5.5 lbs, the robot has a childlike appearance and is able to elicit emotions.
Billed as a baby robot, the machine can interact with humans in an interpersonal manner and convey emotions through its voice and large eyes. It also learns more as it spends time with children and the family.
Val II
The Val II robot is a concierge and surveillance robot that uses speech interaction to guide users through transactions — such as checking into a hotel, buying a mobile sim card, obtaining directions, scanning an ID or passport, printing a document and much more.
Solustar Pte Ltd. created the robot, which includes a scanner and printer as well as AI in order to dispense cards for hotel rooms, or scan IDs or passports for getting through a checkpoint or even printing receipts at a store.
The company said the mission of the Val II robot is to fill in the gaps required by enterprises. The robot can include facial recognition and identity solutions with integration of Microsoft teams and through smart cards with Solucardz.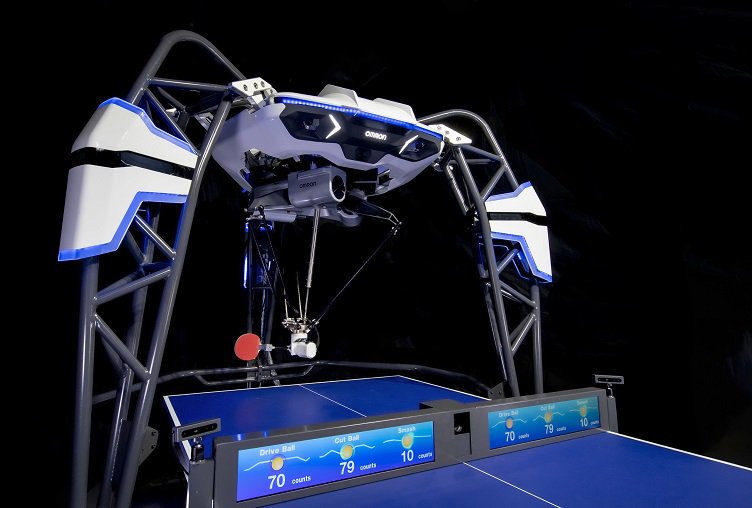 Learn how to play table tennis at CES from a robot. Source: Omron
Forpheus
Omron is bringing to CES 2020 for the third year in a row its table-tennis playing robot called Forpheus. The robot is billed as a teacher and is trained to read the emotions and behaviors of the human player and adjust the speed of the ball based on the player's motivation and ability.
So the better a player is, the better it adjusts the rallies. New features of the robot include an adjustable camera frame rate, six-axis arm movement, improved algorithms for projecting trajectory and more advanced AI.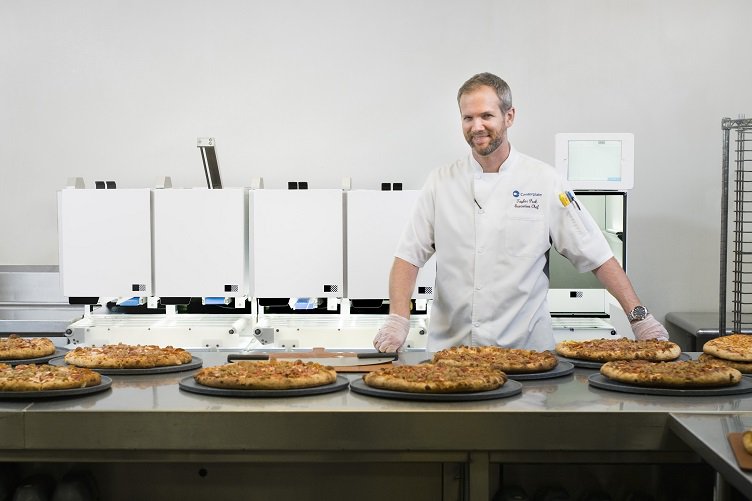 Eat pizza at CES made by a robot. Source: Picnic
Picnic's robotics-as-a-service
Picnic is developing assembly line robots that allow food to be made quickly whether it be in bowls, buns, tortillas or plates. The robotics-as-a-service from Picnic will be used by Centerplate, which will serve pizza to attendees of CES.
The robots are capable of producing 300 12 in customized pizzas in one hour. During the show, the companies will demonstrate how the technology can be used to serve mass amounts of people in a short amount of time. The company has already deployed the technology at T-Mobile Park, home to the Seattle Mariners.
CES 2020 takes place Jan. 7-10 in Las Vegas.