Amazon's voice activated smart speaker Alexa has been around for several years, becoming a ubiquitous part of the smart home.
But at CES 2020, Amazon Alexa has reached a whole new level as the smart speaker has become ported to virtually anything and everything including vehicles, smart appliances, toilets, smart beds and even gas stations.
"Voice control has really driven smart home awareness and appeal over the past few years for a host of reasons aside from the ease of use of voice," said Jonathan Collins, research director for the smart home at ABI Research. "We absolutely expect to see voice penetrate into more devices and supporting more applications. In addition, integration throughout the home will drive impetus for adoption with a range of adjacent application environments."
Voice control platforms extend to a wide range of third-party smart home devices, creating a central control system activated by voice. But the ability to support integrated voice commands into existing smart home devices is a key driver for these smart speakers. Now, support for voice commands is being migrated to other smart devices commonly found outside of the smart home.
As more speakers are acquired by consumers, the likelihood of further integration of Alexa (and other smart speakers such as Google Assistant and Apple Home) to a greater range of applications is not outside the realm of possibility as shown at this year's CES. ABI Research forecasts that the voice control market, which includes smart speakers, will grow in shipments to 250 million by 2024, up from about 140 million in 2019.
At CES, there was naturally a multitude of announcements for Amazon Alexa and smart home devices including smart locks, surveillance cameras and security systems, but interesting announcements also came from outside of the smart home realm.
Automotive Alexa
In the realm of automotive electronics, Pioneer debuted a receiver for next-generation infotainment systems that included Amazon Alexa built into the system. This allows drivers to talk to Alexa through the receiver to play music, hear news, check weather, control smart home devices and more while inside the car.
For navigation in the car, Telenav introduced a voice-first navigation solution that uses Alexa to provide hands-free direction plotting. The technology allows passengers or drivers to zoom-in or out on a map, add stops, get turn guidance, navigate to previous destinations, establish favorite destinations and search for nearby points of interest all using voice commands via Alexa.
Finally, Rivan introduced an in-car system that integrates Amazon Alexa directly into the hardware for electric vehicles to control things such as HVAC, windows, opening and closing the trunk as well as control connected devices in the home from the vehicle. The system also allows Alexa features when the vehicle is offline.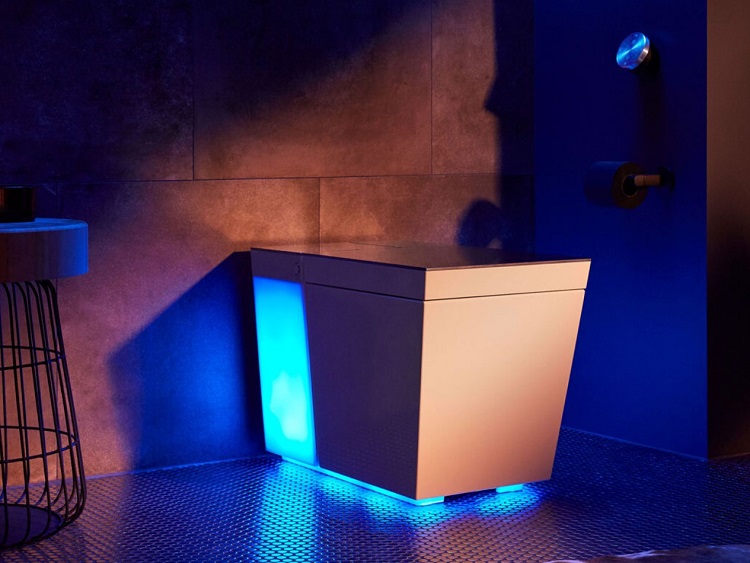 This toilet has illuminated lighting, warm seats and speakers to play music and get the news. Source: Kohler
Alexa in smart appliances
Smart appliances continue to expand in number with more smart ovens, fridges, microwaves and cooking devices being introduced at CES than ever before. While many of these smart appliances already connect to Alexa, new and unexpected appliances are now being ported to the smart speaker.
Ever want to play music or get news on the toilet? Well, now you can with the Numi 2.0 intelligent toilet from Kohler that includes Amazon Alexa inside along with built-in speakers and a heated seat. It also has ambient lighting so those moments alone can be calmer.
Air purifiers are also getting the Alexa treatment from Coway with the recent introduction at CES of its integrated voice commands to order refills and more.
Other appliances with newly added Alexa integration include LG's new artificial intelligence (AI)-powered washing machine that gives notifications when laundry detergent is running low and the option to automatically reorder supplies through the e-commerce website.
LG also ported Alexa to its upcoming 8K TV lineup where support for far-field voice compatibility will be added later through LG's smart TV platform operating system.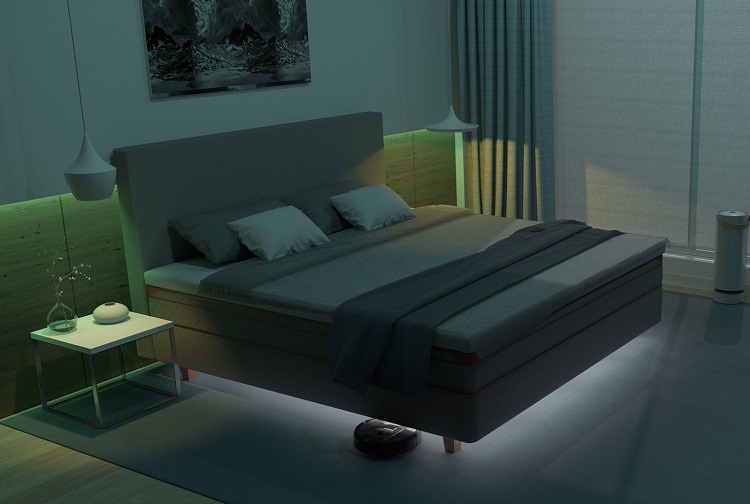 DUX debuted a smart system that integrates with its bed to play music, set mood lighting and create themes for sleep. Source: DUX
Alexa everywhere
In addition to the growing number of places Alexa is cropping up, the technology is also making an appearance in the bedroom. Swedish luxury bedmaker DUX debuted a new smart bed that combines smart home tech with a sleeping system.
The Dux Element incorporated into the bed is a module with installed Bluetooth and Wi-Fi enabled speakers that play music and create the right sleeping environment through Alexa. Users can even activate motion sensing lighting and even create themes to encourage sleep.
Additionally, Signify has announced an update to the Philips Hue Play HDMI Sync Box to control smart speakers from Amazon Alexa, Apple Home and Google Assistant. The update allows users to sync Philips Hue smart lights with the television or gaming console or PC. Via the Hue Sync mobile app, users can enable voice assistants to do the work of syncing the lights with whatever entertainment a homeowner is enjoying, including turning the box on or off, changing the light settings or switching between HDMI devices.
Finally, Alexa can be used to pay at the gas pump in a new deal established by ExxonMobil and Fiserv. Coming later in 2020, consumers with Alexa-enabled vehicles, Echo Auto and other Alexa mobility devices will be able to pay using Alexa while pumping gas at the 11,500 Exxon and Mobil stations in the U.S.
Transactions are processed through Amazon Pay and consumers say "Alexa, pay for gas" and the voice assistant confirms the station location and the pump number. Fiserv will use its digital commerce technology to activate the pump and token generation to secure the process.
As more consumers adopt Amazon Alexa and other home assistants, the number of ways it can be used will only increase in the future.