While traction was gained in numerous areas for real-use cases for drones in 2019, there is still progress to be made in trends such as beyond the visual line of sight (BVLOS), drones used in public safety and drone security.
While these developments will continue in 2020, other developments are happening that will expand the use of unmanned aerial vehicles (UAVs) into emerging areas.
Logistics and retail
Drone use is already expanding in the realm of logistics with large e-commerce giants such as Amazon using the devices to move and ship packages in warehouses. Using drones for RFID has been experimented with for a few years now, but this along with inspection is set to grow substantially in 2020.
Shipping giants are teaming with drone manufacturers such as DJI to streamline terminal operations to use drones to improve freight inspections at harbor terminals. Exyn Technology is also using machine vision with drones for RFID inspections in warehouses.
Companies such as Blue Innovation, which introduced its disaster relief drones at this year's CES that establish a roaming, mobile communications network, is working toward warehouse management using drones.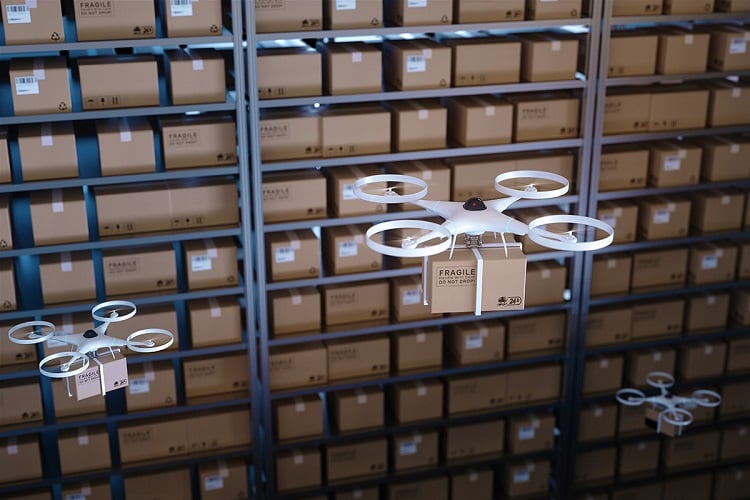 Drones may soon be in mass use in warehouses and inventory management. Source: AdobeStock
Another trend happening in 2020 will be the use of drones in brick and mortar retail establishments.
"Stores are feeling the challenge from e-commerce, and realize that in order to optimize their efficiency, they need the best possible data on their inhouse stocks," said Rian Whitton, principal analyst for robotics and drones at ABI Research. "Many are beginning to roll out large ground-based robots that cost large amounts per unit. Pensa Systems is trying to fill the same market but with lighter drones that cost less and offer a flexible inventory visibility as a service. They currently operate in 100+ facilities."
These drones don't do processing but instead send data off-device to improve inventory analysis for these company's end users. Pensa's system reports on stockouts and predicts low stock. Real-time data is collected faster and with greater accuracy and at a lower cost, Whitton said. The data helps brands compete for stockouts, share of shelf and other shelf conditions impacting revenue.
"To give an idea of the market they are hoping to solve, stockouts cost the retail industry $1 trillion dollars a year," Whitton said.
While these are emerging trends, 2020 will see major traction this year.
Drone delivery
Using drones as a method for delivering anything from e-commerce packages to food or medical supplies came a long way in 2019, but it is expected to rise to new heights in 2020.
Late last year, the Federal Aviation Administration (FAA) started to permit certain companies to test drones BVLOS, which means a drone traveling away from an operator that is either piloted through cameras and GPS or that runs autonomously. The first company to receive this permit was UPS, which is testing drone flights with retail drug chain CVS in North Carolina to deliver prescriptions to consumers via drone. It is likely the FAA will grant this permit to other companies as well including Flytrex, which is participating in a similar program in North Carolina.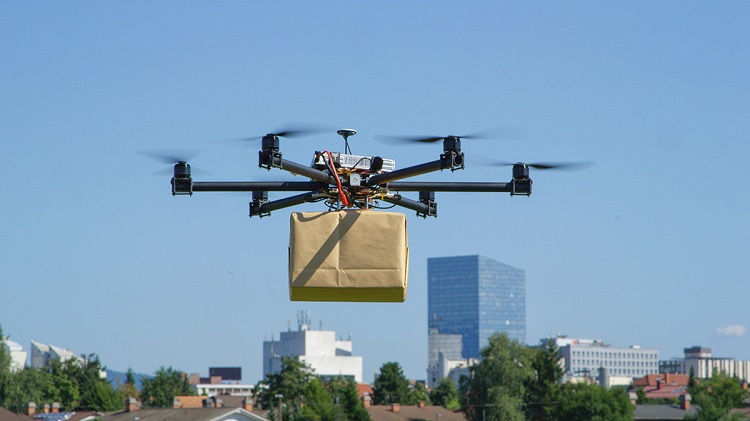 Drones used as delivery mechanisms will continue to grow in use in 2020. Source: AdobeStock
"The future of widespread on-demand drone delivery and other commercial drone uses necessitates a robust drone air traffic control system," Yariv Bash, CEO and co-founder of Flytex, told Electronics360. "However, regulators are also realizing that for across the board safety and standardization, there needs to be similar systems for tracking and control in place for consumer drones. 2020 will be a year of growing awareness and implementation of technologies like DroneID — like license plates in cars."
In 2019, many projects served as test stages for drone delivery including Airbus' project in Singapore for deliveries to ships, DHL's experiment in China using domestic aerospace vendor EHang's Falcon drone, Google's Wing deal with Walgreens, Amazon's new project, Drone Delivery Canada's BVLOS tests in Northern Canada, Matternet's package delivery system for health care in Switzerland and Workhorse Group's Horsefly drone delivery system in Cincinnati, Ohio.
New methods of delivery may bring additional sources of revenue to companies in this emerging market.
5G connection
5G is the next generation cellular communication network that began deployment in 2019. 5G promises to deliver 10 times the download speeds of current wireless networks while improving bandwidth and reducing latency, making it useful for a variety of applications outside of the smartphone space.
Many telecoms are experimenting with new ways to use 5G in healthcare, robotics, emergency first responders, the internet of things, augmented and virtual reality and self-driving cars.
But 5G is being used to enable BVLOS for drones. Ericsson and Australia telecom Optus completed what they claim is the first 5G teleoperated drone flight via a 5G network. The flight was used to demonstrate how a drone can intelligently identify and track objects using cloud computing and 5G. This is considered critical to enabling drones to fly past the point where pilots can see the UAVs.
Verizon is also working on a fleet management platform for drones after acquiring Skyward.
"How do you know where the drones are and what they are doing?" said Nick Nilan, head of product development for the public sector at Verizon. "We are working with several drone related companies through our 5G First Responder Lab to solve this problem as we look to use 5G as a means to get drones to fly further and to more destinations."
Verizon's 5G First Responder Lab is working on several projects by enabling startups to have access to 5G networks in order to develop new ways to make emergency services better, faster and more efficient.
One of the companies Verizon is working with is Aerial, which is creating computer generated video that can identify vegetation through drone to see if an area has changed for future city projects. Athelon is another company that is developing security drones for law enforcement that looks for anomalies such as people being where they should not. The drone lands on its platform and a little robot emerges and replaces the battery and the drone flies off again, Nilan said.
With 5G networks expected to increase in deployment and coverage in 2020, it is more than likely that the market will see other companies experimenting with using 5G as a communication vessel for drone delivery and emerging technology.