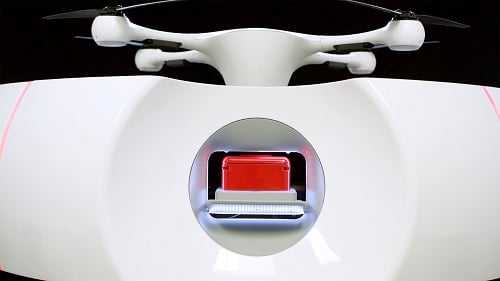 The Matternet Station scans packages before sending or retrieving them from the drone. Source: MatternetIn the past few months, we have seen drones targeted at delivery of goods skyrocket in number.
A new food service was rolled out by Zipline in Iceland just a week after the company established a huge delivery method for medical supplies in Tanzania. Drone Delivery Canada also established a new way to improve how healthcare items are sent via drone. Before that, ZTO Express established a last-mile service for China, and Cleveron established a way to provide residents with drink deliveries.
Now, drone maker Matternet has unveiled its Matternet Station, a drone logistics platform that is fully autonomous and can send packages to different locations simply by scanning the box that carries the item.
The platform works with Matternet's M2 drone and cloud technology for sending and receiving packages through the Matternet Station. The first of the stations will be installed in densely populated areas in Switzerland, providing services for healthcare deliveries such as on-demand transportation of blood and pathology samples between hospital facilities.
The Matternet Station is about 2 square meters in size and can be installed at ground or rooftop locations. The station guides the M2 drone for precise landing on the platform where it locks the drone in place for swapping payloads. A user simply scans a package into the Matternet Station or receives it from the platform by scanning a QR code.
"With the Matternet Station, we're introducing an extremely easy-to-use interface that enables true peer-to-peer drone delivery," says Andreas Raptopoulosm, CEO of Matternet. "For healthcare systems, an integrated Matternet network means that medical items can be delivered to any hospital facility within 30 minutes. This level of speed and predictability creates substantial opportunities for improved quality of care and operational savings."