As expected, there were few actual 5G gadgets to emerge from CES 2020, which took place last week in Las Vegas.
On the surface, this might be surprising given the hype of the next generation cellular technology and the massive investments made by telecoms and communications equipment manufacturers in 2019 to get 5G deployed to cities.
Currently, AT&T has deployed 5G to 10 cities in the U.S., Sprint has deployed to nine cities, T-Mobile to six cities and Verizon has deployed 5G service to about 30 cities. Worldwide, cities in Sweden, Norway, Spain, the U.K., France, Australia, South Korea, Japan and China have all been 5G enabled.
Yet at the world's largest tradeshow, only one device was introduced: the TCL 10 5G, a smartphone from the Chinese maker known for the BlackBerry and Alcatel brands. While TCL won't debut in the U.S. and Canadian markets until the second quarter of this year, it "could help push 5G Android smartphones below the $500 mark," said David McQueen, research director for consumer devices at ABI Research. By comparison, smartphones that have already been introduced for 5G — such as the Samsung Galaxy 10 5G and LG's V50 ThinQ 5G smartphones — retail for well over $1,000.
While there were other 5G announcements made including porting the technology to computers, vehicles and more, McQueen said mobile devices and wearables are more likely to be found at the upcoming Mobile World Congress in Barcelona in February.
5G on PCs
While 5G gadgets and smart devices were hard to find at CES, two new laptops were introduced that were both billed as the first PC devices to support the high download speed, high bandwidth and low latency of the technology.
Lenovo debuted its Yoga 5G laptop, which supports both millimeter wave (mmWave) full band and sub-6 GHz 5G networks and is powered by the Qualcomm Snapdragon 8cx 5G compute platform.
Dell also debuted a 5G laptop, the Latitude 9510 laptop, which includes 5G antennas in the speakers to retain its infinity-type display and features a 10th generation Intel Core i7 processor.
Automotive 5G
Automotive projects made a bit of a splash at the show with SK Telecom forming an agreement with electric vehicle (EV) startup Byton to port SK's 5G network into the M-Byte EV for infotainment and connectivity options in the vehicle.
SK also showcased its HD maps pilot project called Road Learner that collects and analyzes road traffic information in real-time through sensors installed in cars. These maps over 5G networks would help advanced driver assistance systems (ADAS) for public transportation as well as commercial vehicles.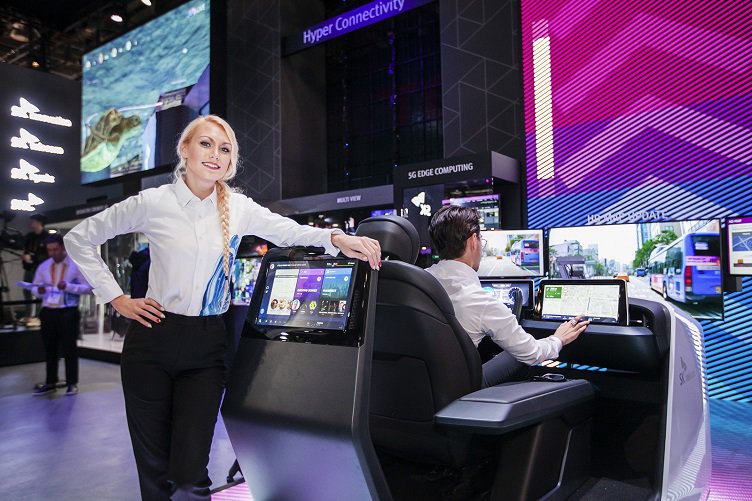 SK Telecom showcased its Road Learner project at CES 2020. Source: SK Telecom
Samsung also formed an agreement with BMW to develop 5G telematics for future cars that could allow self-driving and non-automated cars to link external networks to onboard electronics systems for real-time information for drivers. The agreement would be for BMW's iNEXT vehicle, which is slated for availability in 2021.
Samsung's Harman division is also testing a new ADAS that uses 5G networks to power vehicle-to-pedestrian systems for in-car experiences. The 5G peer-to-peer signals identify objects in a car's path through proximity scanning and mobile devices, pedestrians or cyclists receive an alert that a vehicle is entering the path so they can be aware of potentially dangerous situations.
Components introduced
There were a few announcements from the 5G component side including:
Airgain's mmWave beamforming antenna for frequency bands from 24 GHz to 40 GHz.
MediaTek's new chipset for smartphones integrated with 5G modems and manufactured on 7 nm process technology.
Surecall's latest 5G signal booster, called Force8.
D-Link's three wireless gateways for 5G for differing frequencies and networks.
Skyworks Solutions' connectivity modules for emerging 5G massive IoT market.
If some of the rumors of 20 new smartphones coming from U.S. telecoms alone are true, there will be numerous new components coming in 2020 as well as network equipment infrastructure roll out as the technology continues to mature and live in more cities.