It wasn't long ago when Amazon first announced it was considering using unmanned aerial vehicles (UAVs) as a package delivery method. Instead of parcels delivered through a traditional truck-based delivery company, a drone would carry the package and drop it off at your door.
The idea was universally laughed at, with critics pointing to the unproven technology, let alone a drone with the carrying capacity to handle most boxes. Would the drone crash before it arrived at its destination? Would the package survive being dropped from a long distance in the air?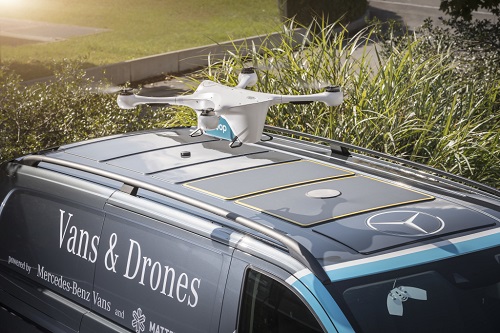 Matternet and Daimler are working on a pilot project involving drones and delivery vans. Source: MatternetFast forward to 2018 and drone delivery is not just a viable business model for last-mile logistics, but one that is becoming highly competitive with numerous companies currently in pilot projects for a variety of delivery markets, including retail goods, food and grocery and healthcare, such as delivering medicine and blood samples between hospitals or delivering care to remote locations.
This market has developed significantly in a short time and includes efforts such as:
This is just a handful of the projects that have emerged in the past few years.
Stelios Kotakis, senior research analyst for service provider technology at IHS Markit, told Electronics360 that while the potential for drone deliveries in the future is great, the market still has some growing to do. In many countries drone regulation status to address public safety issues and reduce risks still needs to be defined.
"When these issues are concluded, industries will be able to fully utilize drone capabilities for delivery which are very high judging from the companies, institutions, scientists and everybody else working towards this direction but also from technologies already in place," Kotakis said.
IHS Markit forecasts that more than 50,000 drones will be shipped for the delivery market by the end of 2019, showing that this market is going to be impacting last-mile logistics in the near future and in a significant way.
For the most part, consumers in the U.S. are receptive to the idea of having packages delivered through drones, meaning these pilot projects that are being conducted have a greater viability of becoming a true business model.
Enter Home Drone Platforms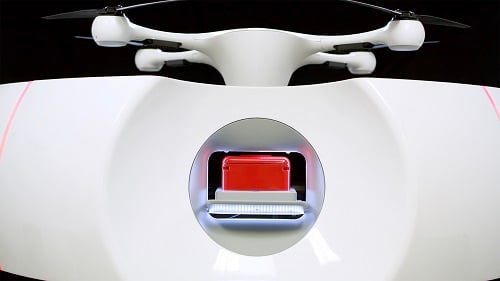 This is the Matternet station for food and parcel delivery using drones. Source: MatternetThe potential of delivery drones is now giving rise to new ideas in how to best facilitate UAVs landing and dropping packages off at consumers' homes.
One such platform is from Worldpay, which recently introduced its drone landing pad that is placed in front of a door and doubles as a doormat. The concept uses EMV contactless payment card technology to verify the identity of the consumer, which is embedded in the landing pad. When a drone lands, it matches the information to the card details and the parcel is released.
This type of technology could allow online shoppers to have a package delivered to a location that is convenient to them, without having to be there or check the item before accepting it.
Another company, DroneDek, was just awarded a U.S. patent for its last-mile mail delivery system that functions as an alternate mailbox. Instead of delivering the parcel to the front door or driveway, drones would have a dedicated mailbox where the item would be placed in a secure, weather-proof box near the street.
The technology includes a secure storage for delivery items, solar powered cargo area, the ability to ship and receive, heated and cooled storage area allowing for pharmaceutical, food and beverage delivery, GPS locating and a charging station.
"Rolling out the DroneDek will rely on FAA standards allowing for commercial drone delivery and many other factors," Dan O'Toole, inventor and CEO of DroneDek, told Electronics360. "Drone Delivery is coming. There may be many ways to monetize the DroneDek including a Freemium Model, a monthly app subscription, an outright purchase or maybe the customer will 'buy the razor and get the blades for free.'"
O'Toole said DroneDek is currently looking for partners to help build out an infrastructure for the technology, to help with federal regulation and to scale the rollout of the technology to the masses.
"The drone industry will curry on evolving and developing in many forms but it's always the case that many ideas will come up about in forms and shapes and uses of the technology but the industry will support only those that will meet some significant demand during the first stages or at least present a good potential for future adoption by markets in large numbers," Kotakis said.