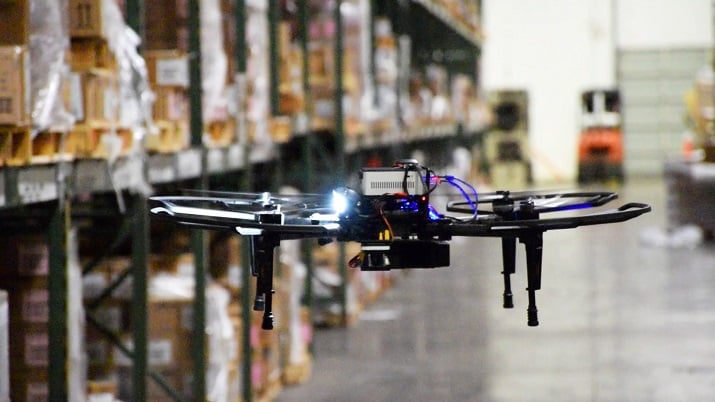 RFID drones are capable of garnering accurate inventory assessments in the span of one day, something that would take humans three months or more to do. Source: PINC SolutionsThe short answer is no, or at least not yet.
That's only because the market is still in its infancy and the use of unmanned aerial vehicles (UAVs) has yet to achieve mass commercialization appeal in inventory management.
Use cases for drones have been rising rapidly. What was previously thought to be a nice way to take aerial photographs or a fun consumer hobby has morphed into use across numerous industries, including agriculture and forestry, energy and mining, retail, real estate, entertainment and media, surveying and insurance, security and for military and aerospace.
Now the industrial sector is getting in on the use of drones with parcel delivery services, testing the use of drones to save fuel costs and delivery time such as the recent successful test conducted by package carrier UPS. Inventory management and monitoring in the industrial space is also emerging in a way where RFID equipped drones are being used to reduce costs and time, as well as curb accidents and health hazards.
"Using RFID tags in combination with drones is an idea that is already helping companies to make their inventory processes more efficient and effective," says Dinesh Kithany, senior principal analyst for smart home and appliances at market research firm IHS Markit. "We could potentially see more demand for such uses in the future especially from very large corporations that have to deal, organize and operate very large warehouses and distribution centers."
IHS Markit forecasts the professional drone market to reach $930 million in revenue this year and grow to more than $4.6 billion by 2020, a compound annual growth rate of 49.1 percent.
Changing the Workplace
Obviously, when a disruptive technology enters a market that potentially could take jobs away from actual humans it is a concern. But according to Matt Yearling, CEO of RFID drone maker PINC Solutions, drones will be accomplishing tasks humans either can't do or would find monotonous, and their time could be spent elsewhere doing more important jobs.
Every year, there are 500-million freighter shipments across 250,000 plants and warehouses. About 80 percent of the time, those assets sit idle in facilities waiting for distribution. How do you manage this at a facility? Most of the time, this is done via visual inspection of stationary assets and an eyeball estimate of the inventory on hand.
Introducing drones to the mix equipped with an RFID tagging system can do these repetitive jobs faster and more effectively. A robot has the ability to look at the same inventory as a human but doesn't get tired and doesn't make mistakes.
"Inventory accuracy and velocity in this day and age is of paramount importance to be competitive," Yearling says. "You need to understand what assets you have and where it is in your network. And you need to have timely data associated with that."
Yearling points to an example of a warehouse where there are 70,000 spot locations, or pallets of goods, with $100 million worth of inventory and a dozen or so employees working at the warehouse. "Even the best companies in the world are not able to get 100 percent inventory accuracy. Why? Because you are relying on humans," he says. "Humans are not necessarily effective at following mass repetitive tasks."
In this example, the dozen or so people working in the facility could take three months, if not more, if not ever, to complete a full inventory check in the facility. With robots, you can accomplish this task in a single day, Yearling says.
"That's huge for companies that are operating at scale," he adds. "You have a good understanding and a high degree of confidence of what your inventory actually is."
Accuracy also becomes a factor when inventory is 30 to 40 feet in the air on a rack. While some facilities have lifts to take humans to these racks, other inventory processes use binoculars to gauge inventory, a process that is highly inaccurate.
"There may be areas where people will be displaced but the reality is the folks doing these inventory checks don't have all the resources or time to do their work effectively," Yearling says. "Drones are redefining how this work is done."
Go Automated or Go Home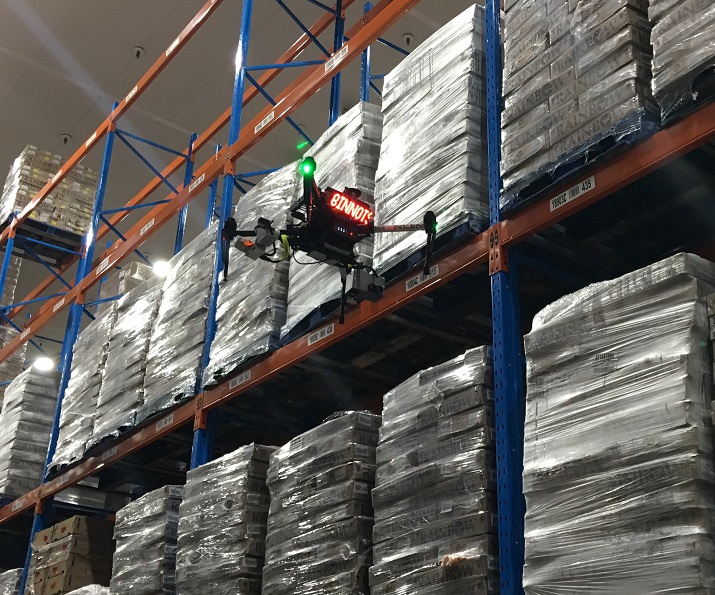 DroneScan's RFID drones are able to accurately and quickly tag inventory in large factories with large racks of goods. Source: DroneScanIn order to get the most out of drones in manufacturing, they must be autonomous otherwise humans are having to be tasked with repetitive tasks where errors can be introduced.
"If you don't make this autonomous you are wasting your time," Yearling says. "If you are depending on a person to fly a drone, it is actually quicker for someone to scan the item by hand. It is a robot after all—it needs to understand where it is, know what it is doing and be able to do it by itself. Let the robots do the mundane tasks and let the humans be engaged in operating and doing something meaningful with the data they are getting back from the drones."
Jasper Pons, co-founder of South African RFID drone maker DroneScan, says autonomy is of critical importance because it frees humans to do other important tasks. Otherwise, constant supervision would be required leading to similar problems that have cropped up in inventory management.
The problem is the battery life of the drone. Pons says most RFID drones have a five to one charge time to flight time ratio, requiring the robots to return to a charging station frequently during operation. Once this problem is tackled, adoption rates may be increased.
Toward Mass Adoption
While RFID drone use is in the early stages of adoption, the benefits of accuracy, efficiency and safety are something that companies will begin to realize are worth the investment, Pons says.
The inventory drone systems by DroneScan have primarily been adopted by large third party logistics vendors with single license plate number (LPN) barcodes. RFID has yet to be adopted because of the perceived high cost of the systems and since most pallets are only in the system for a few weeks, these companies believe the cost of the RFID tags would not give them the required return on investment, Pons says.
"We do believe RFID is a Cinderella technology, while the costs have not decreased below the threshold to make it attractive, other logistics costs have increased, so relatively, RFID is offering a more attractive return on investment," Pons says.
Yearling agrees RFID is still being used primarily by early adopters but that is short lived as most large companies are currently evaluating drone technology for inventory management.
"I'm not aware of anybody that is fully deployed and live with this technology but I can assure you in the next six to 12 months there will be," Yearling says. "Consumers have been enamored by drones and now we are seeing enterprise take note and the commercial drone market is only just starting to take off because of the value it will provide to companies."