Drone delivery projects were well under way before COVID-19, but the pandemic put these projects into full gear.
Throughout 2021, drone projects emerged from major retailers working with unmanned aerial system (UAS) startups including moves by Walmart, Walgreens, Kroger, UPS, Verizon and many more.
Why are so many emerging?
The outbreak of the COVID-19 pandemic caused workplaces, retail stores, groceries and everything else to rethink how they do business. No longer was person-to-person transfer of goods, medicine and food something that was desirable; instead, a moniker of "contact free" was demanded.
Drone pilots were already underway to help with logistics problems in the supply chain, an aging workforce of truck drivers and an influx of e-commerce purchases. Additionally, projects were developed to test the viability of long-range transportation of goods so those in rural or hard to reach areas could get access to medicine and other goods easier.
These beyond the visual line of sight (BVLOS) trials also would see drones traveling past the point where the operator could not see it but would still be able to monitor it via cellular, radio frequency or satellite transmissions. However, when COVID hit, transportation of goods and cargo via UAS was seen to let consumers avoid highly populated areas or receive tests and medicine that they were unable to obtain otherwise.
The pandemic only reinforced that this method of cargo delivery was something that would be of value to consumers and businesses alike.
The year drone delivery took off
This month, Wing called 2021 the year that drone delivery took off with the company recording more than 140,000 deliveries this year alone. That represented an increase of 600% over last year with growth of its drone delivery services accelerating throughout the year. Wing said interest in new services for drones from consumers also gained traction in 2021.
Wing, the drone division of Alphabet, started a drone delivery project in October with Walgreens in the Dallas-Fort Worth area in its first project to deliver goods in a densely populated metropolitan area in the U.S. Until this project, Wing had limited its drone delivery to smaller towns in less crowded areas.
The company also has been active all year in Logan, Australia, flying 10,000 coffee runs, 1,200 roasted chickens, 1,700 snack packs and much more to the 300,000 residents in the city.
[Learn more about UAS technology on GlobalSpec]
Food and coffee
Early in 2021, Coca-Cola with Coffee started a project to team with Walmart and a drone startup to bring the drink to consumers via UAS. Dominos and other restaurants also began projects using drones for delivery of pizza and other foods.
Coffee maker Nepresso also got in on the buzz of using drones by partnering with Airways, SKylinX and FlytechIL to deliver coffee via drone to Tel Aviv, Israel.
These were not large-scale projects but more to test the viability of the technology with food delivery and consumer interest.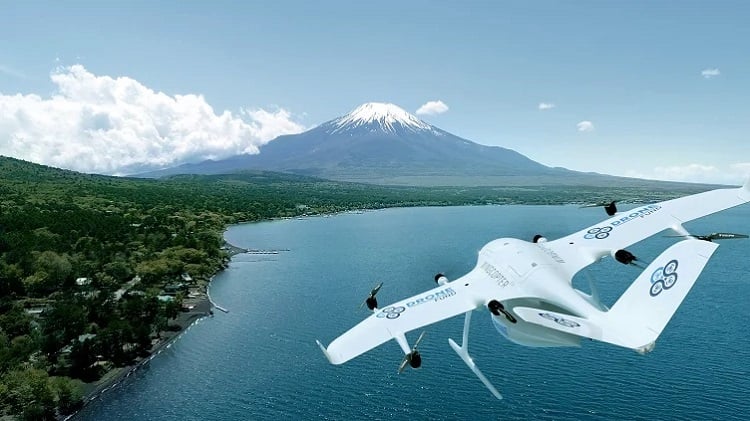 Wingcopter created a healthcare-centric network for drone delivery in 2021 and started numerous projects to build its presence in Japan for UAS deliveries. Source: Wingcopter
Major players get involved
Kroger and Walmart each started new projects this year with drones after already using autonomous delivery vehicles in 2020 in different pilots.
The Walmart projects involved both DroneUp and Zipline for what it claims it the first multi-site commercial UAS delivery operation at three Walmart stores in Arkansas.
Kroger's project was in Ohio with a second one beginning in California later in the year to carry about 5 pounds of food, medication and other goods to consumers.
Healthcare and more
Drone startup Wingcopter launched a healthcare-specific delivery network called Spright to improve access to medical supplies from providers to communities, particularly those that are urgently needed or in rural areas where it may be hard to come by.
In Japan, Wingcopter started a project for delivery of vital pharmaceuticals and other consumer products through a partnership with Ana Holdings. Wingcopter also received a new investment from Drone Fund, a Japanese venture capital firm, its first investment in an electric vertical takeoff and landing (eVTOL) technology.
Drones even will help with laundry in a new project from Laundrapp in the U.K.
Drones in 2022
Given that the pandemic continues to be a problem with new variants cropping up and new lockdowns being imposed, drone delivery won't be slowing down in 2022 and is likely to grow even further with companies expanding services.
Commercially based drone services which have just started to become a thing will likely be further expanded. Future collaborations are likely to continue to emerge as big retailers test new ways to get products to customers in a pandemic world.