Verizon Wireless believes that 5G, the next-generation cellular communication, won't just allow smartphones to download movies faster, but it will also improve emergency service response times and combat crime.
Last week, Verizon completed the roll out of its third cohort for its 5G First Responder Lab, with an additional five companies working on technology for fire fighters, police, paramedics and other emergency services.
Established in May 2019, the 5G First Responder Lab has grown to now include 15 startups working together on new technology solutions with the goal of making the products commercially viable to run on a 5G network in the future.
Nick Nilan, head of product development for the public sector at Verizon, told Electronics360 that some traction is already happening as Aerial Applications, a drone mapping company that designed software to offer views of the sky over disaster torn areas, was recently awarded a contract with the federal government. While initially the contract will be for the drone mapping technology to run over a 4G network, it will eventually transition to 5G when the network is further deployed and developed.
Edgybees, which augments live video feeds with geo-information layers captured from drone, vehicle, CCTV and mobile cameras, has been working in Australia to help fight the country-wide wildfires raging in the country. Edgybees provides real-time video feed overlay with maps and redirects people around fires. Again, the technology is being used on 4G networks, but once 5G is widely deployed, it will be ported to the 5G network.
While not every product is currently in use and some are more experimental in nature, most of the 15 companies are developing 5G solutions that will eventually be used commercially, Nilan said.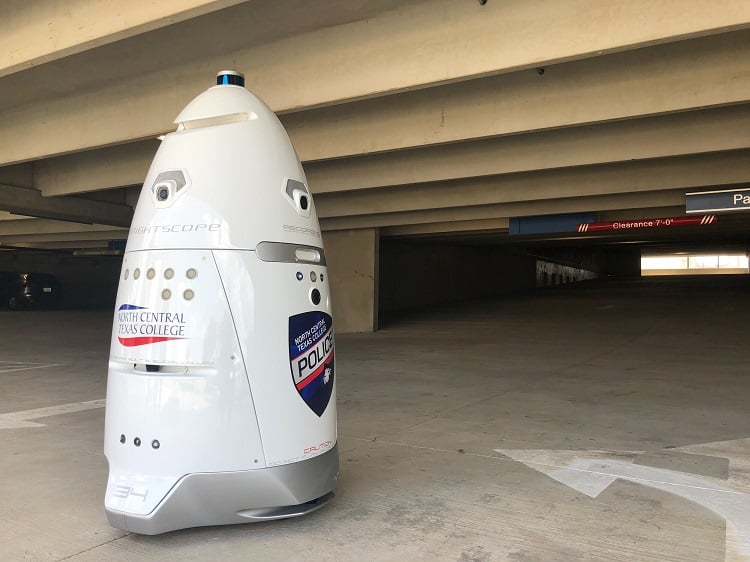 Autonomous security robots are under development to work with 5G. Source: Knightscope
"We are working with companies that have a track record or a solid vision on bringing a new product to market," Nilan said. "One of the first participants was Blueforce that uses a sensor fusion platform to enable smarter policing that has been working with police forces for 10 years and we are looking to leverage that technology to 5G. So many of these companies, we are very confident that these will come to market."
Other more experimental offerings include Quake Technologies, which is making augmented reality for firefighters. While the product is not yet available, Verizon is working with Quake to launch it later this year.
"Another company called Lumineye is developing wall penetrating radar that will essentially allow law enforcement or fire fighters to see through walls either through rubble or in a burning building or hostage situation," Nilan said. "What we didn't look at in the 5G First Responder Lab was very far off ideas that are not going to be something that can be not attained, that are just ideas."
The five companies in Verizon's third cohort for its 5G First Responder Lab include Lumineye and Edgybees as well as Knightscope, a maker of autonomous security robots, SimX, a maker of medical simulation software for virtual and augmented reality platforms, and ZeroEyes, a software company that helps responders predict, prevent and protect against active shooter scenarios at schools and other public spaces.
The next step for the 5G First Responder Lab is to expand the number of companies working on technology offerings. Verizon already has open applications for its fourth cohort, which will kick off next month and will focus on how 5G can be used to enable faster dispatch times.
"This is going to be the year where we see more deployments with 5G and so we want to have more solutions ready for when 5G is ready," Nilan said.