In 2020, new standards governing drone use will be introduced, including the first ISO-approved drone safety standards (ISO/TC 20/SC 16), which were first put into place in December 2019. This means that safety management systems will be a major regulatory topic this year and that a foundation for future rulemaking, standardizing and legislating of drone operations is underway.
Governments began trying to regulate drones in 2019 to gain more insight into who was flying the devices and where the devices could go. This was due to an increase in the number of incidents where drones have been flown into sensitive areas such as airports and restricted airspace, and it continues today.
The focus of ISO/TC 20/SC 16 is on air safety, which is obviously important given what is happening at airports and other sensitive locations. The standard promotes etiquette for drone use that reinforces compliance in no-fly zones, local regulation, flight log protocols, maintenance trains and flight planning documentation. Social responsibility is at the heart of the standard, using technology to improve but not disrupt everyday life by making users more responsible in their use of drones, said Rian Whitton, principal analyst for robotics and drones at ABI Research.
"The effectiveness of the Standards in improving air safety will be further strengthened by the continuing rapid development of geo-fencing and counter-drone technology, providing frontline protection against 'rogue' drone operators," Whitton said.
ABI Research expects this ISO standard to be the first in a series of standards for drones and robotics as other standards will address aspects of the drone technology such as general specifications, product manufacture and maintenance, unmanned traffic management (UTM), testing procedure and product manufacture standards.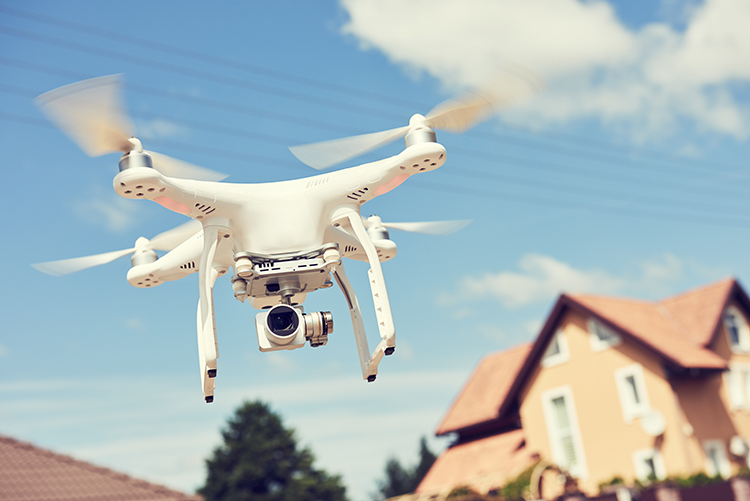 The ISO standard would promote etiquette for drone use that would include no-fly zones, local regulation, flight log protocols and more. Source: Adobe Stock
FAA makes moves
Meanwhile, the Federal Aviation Administration (FAA) is permitting certain companies to test drones beyond the visual line of sight (BVLOS), which means a drone can travel far enough away from an operator when piloted using cameras and GPS or when the drone operates autonomously. The first company to receive this permit was UPS, which is testing drone flights with retail drug chain CVS in North Carolina to deliver prescriptions to consumers via drone.
The permit was part of the FAA's Part 135 standard certification, the highest level of certification for drone flight. The permit allows for companies to fly an unlimited number of drones with an unlimited number of remote operators to fly at night and to fly with cargo exceeding 55 lbs. If the UPS project is successful, other companies will likely get permits as the FAA is looking to expand certifications in order to expand drone delivery use.
The FAA has also proposed new requirements, recommending that virtually all drones be networked to a remote ID service managed by private supplier companies that would then charge mandatory subscription fees. These companies would store the drones' flight records for at least six months.
Whitton said the new decrees require that drones larger than 0.55 lbs transmit remote ID codes to assist law enforcement in knowing who is flying what drone and where. The FAA will give three options for remote ID compliance: standard, limited and FAA-approved.
"Remote ID is considered a prerequisite for not just BVLOS operations, but also for night flights and for flights over large groups of people," Whitton said.
However, not all companies are behind this type of regulation. Drone giant DJI said this proposal creates undue financial and compliance burdens and would impede America's existing drone industry. DJI said manufacturers would face increased equipment costs on new products and that drone "kits" that are used for technical skill development and allow customization by the assembly of separate components would essentially be outlawed.
Additionally, DJI is concerned that drone operators would be required to sign up for expensive data plans through their cell service in order to get the proper coverage required for remote ID — running about 20% extra per year, per average drone user — as many of these aircraft have no means of internet connection.
DJI instead prefers a system where drones flying under FAA rules perform remote ID via a radio broadcast, which is inexpensive and easy to comply with. This is something officials in Europe have implemented to comply with that region's own remote ID system.
It is unclear if the FAA will change its stance on internet-required remote ID or if a radio broadcast option is still feasible. As the year progresses, more information should be revealed.