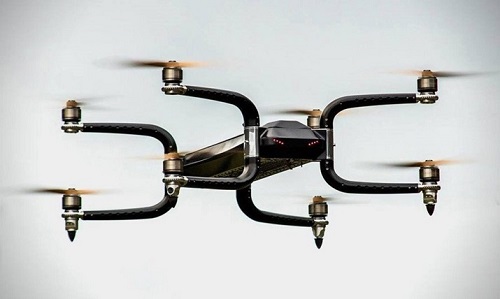 Drones come in all shapes and sizes such as this heavy lifting drone for industrial use. Image credit: Griff Aviation
Unmanned aerial vehicles (UAVs), or more commonly known as flying drones, have been cropping up everywhere. From drones being used for research on volcanoes, for nuclear accident monitoring, as a possible method of exploring Mars, in industrial inventory management, to delivering lab samples to hospitals, to the construction site, to lighting up the Super Bowl, to use in future pollination and much more.
This doesn't include the many uses for drones in delivery, in robotics research or as a promotional method (such as the recent Wienerdrone from Oscar Mayer). The largest category for drones, however, is the consumer realm where these machines are being used for personal entertainment, racing and photography.
Yet, despite this rapid influx of numerous application uses for drones and innovations in drone technology, only 670,000 drones were registered in 2016, according to the Federal Aviation Administration. That's way up from the 325,000 drones that were registered in 2015 but that is still under one million drones in the U.S. market with roughly 321 million citizens.
With so much innovation and with many applications for the technology, why aren't more people adopting the machines for recreation or other purposes?
The challenges reside in three main issues. The first of which is regulation. Every country has different regulations and some of these countries are extremely rigid about drone flying going as far as to say if a consumer drone is in the line of vision it is not allowed in certain areas.
Canada recently just signed new rules that recreational drones can't fly over 300 feet above the ground and can't travel more than 1,640 feet. Drones also can't be within 240 feet of buildings, animals, people or crowds. Every drone must also be registered and can't be within more than five miles of an airport or government facility. While President Donald Trump is looking into easing drone regulations in the U.S., there are rumors that the FAA is looking closely at Canada's new rules to pattern something similar in America.
Consumers hate regulation and they also hate registering devices, not that these are bad things. Tighter regulation won't help encourage consumers or researchers or industrial companies to adopt drones for use.
Another challenge is the battery life of drones. Most drones can only fly for about 20 minutes (if you are lucky) before needing a recharge. While industrial drones tend to have better battery life, consumer recreational drones have been given the short end unless a user is willing to pony up for a more expensive battery or buy a second battery that can run consumers an additional $100 on up.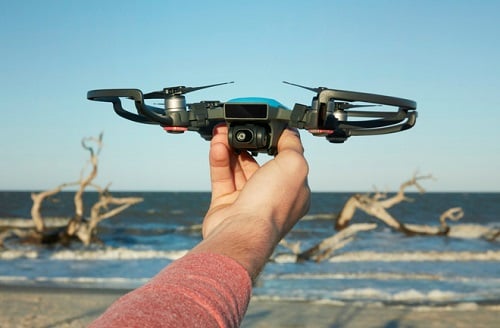 The Spark drone from DJI is a lower cost drone with longer battery life. Image credit: DJIRecently, I had a conversation with Dinesh Kithany, principal analyst for home appliances at IHS Markit, who says that until battery technology reaches a point where drones are able to fly for longer period of times between charging, this is a major challenge for the mass adoption of recreational UAVs and seriously impacts their use in industrial applications.
"A decent consumer drone is already expensive, which is a challenge in and of itself, but add to this the need to buy a better battery or two batteries and the costs outweigh the want of owning a drone," Kithany said.
The final challenge is consumer excitement over drone technology. Word of mouth is a huge thing. You can watch YouTube videos all day of drones doing cool stuff (or failing as many videos tend to portray) but unless consumers actually take the plunge and buy one, fly it and show it off to the world, it will remain something of a craze for people looking to show off some fancy technology.
"Many people that own a drone don't use it," Kithany said. "Either it is too hard to fly or not worth the risk in crashing it or just don't have the time or whatever the case. Manufacturers want more people using drones but if you don't see people actually out there using them, consumers will continue to think of it as a niche product or a fad."
While there are many other challenges to enable mass drone adoption — such as improved GPS/navigation capabilities, increased ruggedness of the machines and ease of operation — battery life, regulations and consumers' actual desire to own a drone will remain a barrier to seeing the machines flying over everything and everywhere.