Texas Instruments (TI) has introduced a two-circuit based subsystem reference design that extends the flight time and battery life of quadcopters and other non-military consumer and industrial drones.
TI says flight time and battery life continue to be the main challenges in drone design for both recreational consumers and for professional drones. According to market research firm IHS Markit, about 50 percent of drones in the market have a battery life of less than 30 minutes and 35 percent can fly up to an hour. Only 15 percent can fly for more than one hour under ideal conditions without any payload.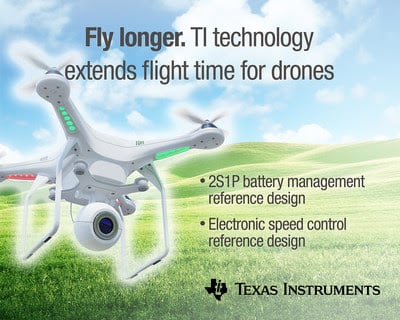 TI's drone reference design will provide longer battery life and flight time to drones that deliver packages, provide surveillance or communicate and assist at long distances. Source: Texas Instruments The 2S1P battery management system (BMS) reference design transforms a drone's battery pack into a smart diagnostic black box recorder that monitors battery capacity and protects the lithium-ion battery throughout its lifetime, TI says. The reference design provides gauging, protection, balancing and charging capabilities to any existing design and improves flight time.
The BMS reference design includes a TI F28027F microcontroller for motor control and field observer proprietary software algorithm that estimates the rotor flux, angle, speed and torque. It also contains a battery charge controller and a high-efficiency DC/DC converter to achieve high-efficiency power conversion.