Starting in March, a group of hospitals in Switzerland and autonomous drone logistics vendor Swiss Post have been conducting test flights for future modern delivery of laboratory samples via drones supplied by Matternet.
The project has now been given the green light by the Swiss Federal Office for Civil Aviation (FOCA) where Ticino EOC hospital group will be able to transport samples in the city of Lugano. The joint project hopes this will modernize transport delivery autonomously that is currently being done by road. The integration of drones will make transport faster and more efficient in order to improve patient care, the group says.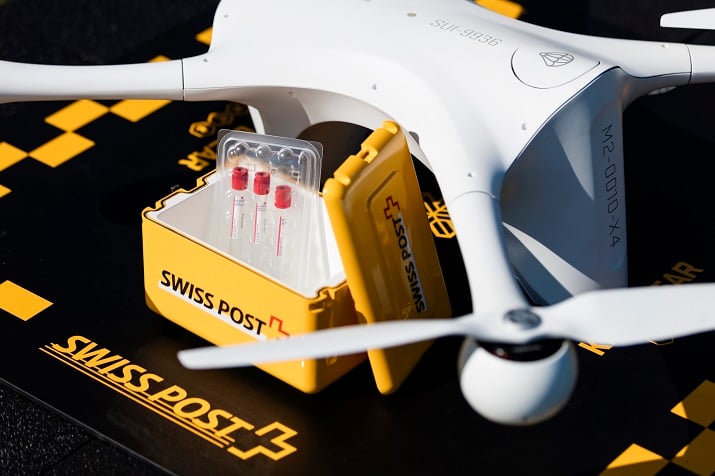 A hospital delivery drone gets ready for transport of patient samples. Source: Swiss Post
The team tested about 70 autonomous test flights between the Ospedale Italiano and the Ospedale Civico hospitals. Tests will continue into April and a further round of testing is planned to take place in the summer of this year.
If the tests meet the requirements of the FOCA regarding safety, practicality and reliability, the regular use of drones between the two hospitals will become an everyday occurrence. This is expected to begin in 2018.
Hospital staff will be able to load the drone independently with a safety box for transportation of the samples and launch the drone with a smartphone application. The drone will then fly autonomously to its destination, where it will be received by another staff member at a different hospital.
The drone from Matternet was designed to transport light goods weighting up to about 4 pounds with a maximum range of about 12 miles. The drone comes equipped with duplicates of both the autopilot and sensors—altimeter, accelerometer and gyrometer—in the event of a failure in one or more electronics. If both redundant systems fail, a parachute would be released automatically.