If you were watching the Super Bowl halftime show no doubt you saw the lights in the sky as part of Lady Gaga's performance.
Those lights were 300 aerial choreographed "Shooting Star" drones powered by Intel Corp. It was the first time that drones have been used in such a manner during a televised event, the company said.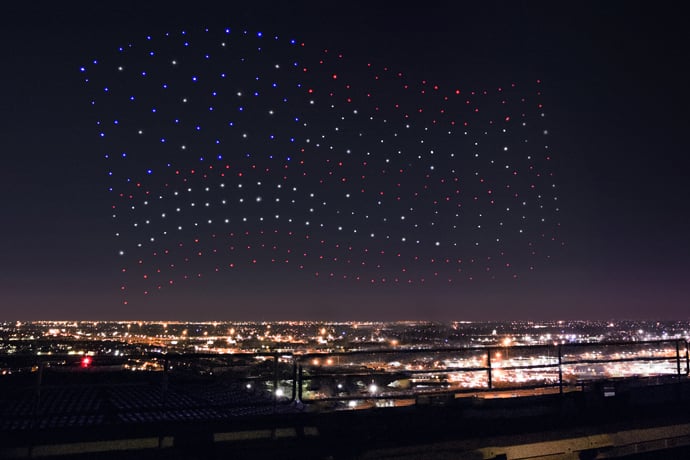 Intel's drone fleet were a big part of the halftime show that featured a performance by Lady Gaga. Source: Intel The drones were used at the beginning of the halftime show to create twinkling stars in the sky that morphed into red and blue moving stars before creating the American flag. Toward the end of the show the drones formed the Pepsi logo -- the main sponsor for the event.
After the halftime show, Intel ran a 10 second ad that showed the drones forming the Intel logo before descending back to the ground.
"The potential for these light show drones is endless and we hope this experience inspires other creatives, artists and innovators to really think about how they can incorporate drone technology in new ways that have yet to even be thought of," said Josh Walden, senior VP and general manager of the New Technology Group at Intel.
The Shooting Star drones are a new type of drones specifically designed for entertainment events and festivals. The quadcopter unmanned aerial vehicles (UAVs) are equipped with light emitting diode (LED) lights that can create more than 4 billion color combinations and can be programmed for animation, according to Intel.
The drones will also be used in a new collaboration with Walt Disney World Resorts where the drones will be used to paint images across the sky at the Disney Springs shopping, dining and entertainment district. The show will consist of 300 drones that will be in the air for 12 minutes during the eight week engagement at the resort.