The term "3D-printed guns" has been in the media lately, thanks to some recent legal activity surrounding the posting of computer-aided design (CAD) files for various gun designs. Some of these files have been designed specifically as blueprints for 3D printer manufacturing. It's a topic that has understandably stirred up a number of fears. In my opinion, however, the issue at hand is not physical weapons, but plain old computer files -- despite the fact that these files could, at least in theory, be used to create working guns.
Here's some background: Recently, the U.S. State Department settled a legal case to let a group called Defense Distributed release online the files in question. This prompted eight state attorneys general to sue the State Department in an attempt to block their release; more attorneys general subsequently added their names in support, and at last check there were 19 on the original suit. On Aug. 2, 2018, others joined forces and filed a separate suit with a similar message: Don't release these blueprints for creating guns. The debate is ongoing.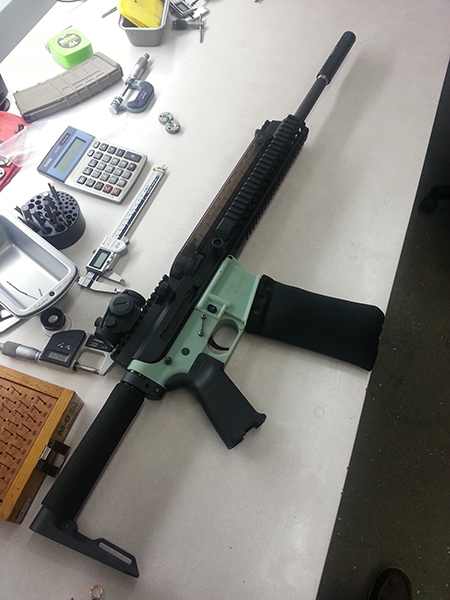 Full build of an AR-57 model from Defense Distributed. Now, don't get me wrong. There's no question that keeping guns out of the hands of those that should not own them is important, and I have no problem with enacting reasonable laws to that effect. It is illegal for someone who isn't allowed to own a gun to manufacture one, whether on a 3D printer or otherwise. I also believe that we need better gun control in the United States.
But, again: In my opinion, that is not the issue at the center of this debate. Many, myself included, believe CAD files to be covered under the First Amendment's guarantee of freedom of speech. Blocking access to a particular CAD file is entirely different from blocking someone who isn't allowed to own a gun from making one. Just as a blueprint for a house design is not the same as an actual house, a file for a gun design is not the same as an actual weapon. If we do block these particular files, a dangerous precedent is set along the lines of blocking files that someone deems to be, in some way, problematic. The First Amendment is designed to transcend those types of reservations, and follows a very sound principle: "I may not agree with what you are saying, but I will defend your right to say it."
Putting the freedom of speech issue aside, though, the question at the top of everyone's mind is probably "What happens if we publish the files?" But these files actually have been online since 2013, and have already been downloaded many thousands of times. Designs for 3D-printed weapons have also been floating around the internet on torrents and other sites for years, and it makes little difference if a particular source for those designs gets shut down. As we all know: Once something is out there on the internet, it's out there for all time.
The prospect of easy access to these files seems to stoke two kinds of fears. First, the idea that plastic weapons could pass undetected through metal detectors. This is a valid fear, although don't forget: The bullets that would actually make the weapons dangerous would still need to be made of metal. The second fear is that someone who isn't allowed to own a gun could use these files to make one easily. This fear is also valid, but there's an important consideration about what's actually involved in printing a viable weapon: You would need an expensive, high-quality printer to make a "real" working gun. The tolerance and strength of most of what's out there for consumers just isn't enough, and a gun printed on a cheap desktop printer would be more likely to explode and injure the person who tried to fire it than to do damage to an intended target. (Note the video clip, which is a ATF test of a Defense Distributed "Liberator" gun printed with Visijet material.) In fact, this is my biggest fear: that someone will get hurt in the process of making the thing.
Fact is, there are far better and easier ways for potential criminals to get their hands on an untraceable gun than trying to make one on a 3D printer. In addition to what's readily available on the black market, guns could be made with CNC and casting equipment. Plans to turn plastic pipe into guns are also floating around the internet, and following these plans would be much more likely to produce a viable weapon than a 3D-printed gun. And there's nothing actually illegal about making an untraceable gun; what's illegal is trying to sell one. That fact, however, won't necessarily stop a criminal who is determined to get one.
As for me, I mostly just shrug my shoulders at the latest media coverage on 3D-printed guns: Whatever happens doesn't really change anything in terms of access to the files that are already out there. What could be a casualty of this debate, however, is the precedent we set for free speech regarding the mere sharing of designs. I worry about that, much more.