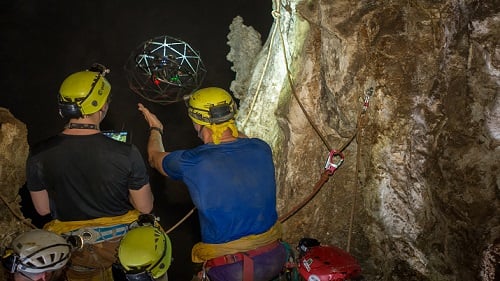 Researchers launch the drone into the cavern to test its durability. Source: ESAThis past weekend, astronauts from the European Space Agency (ESA) and researchers from Flyability tested in underground caves a new type of drone that are built to withstand collisions.
The Flyability drones are built with a large cage around it allowing it to slam into walls or caverns without taking damage to the machine itself. Equipped with infrared and optical cameras, the drones were launched into a 100 meter vertical tunnel and captured video of what was inside.
The goal of the project is to test how robots and humans work together to explore and build settlements on planetary bodies. The caves are a way to test equipment, techniques and working methods for future missions such as finding a proper area to colonize mars.
The drone requires two operators — one for the cameras and one for the drone itself. In the cavern test, ESA looked for hot spots and mapping never-before-seen areas. The thermal camera allowed operators to find areas where temperatures are estimated to reach higher than 40 degrees Celsius. The team also earmarked future areas of exploration.
In the nine flights inside the cave, the drone withstood both hot and cold air currents that form condensation to resemble continuous rain in the shaft.
Flyability says sending humans into these caverns would be too dangers as the ambient temperature and level of humidity make every human action risky. Plus, with the caged feature of the drone, it meant less risk to the robot as it bounced off nearby obstacles in gathering uncharted paths.