While it's common knowledge that bees are now showing up on the endangered species list in the United States, the dangers of this of event may not be clear. While bees could be considered pesky critters, they do perform the important task of pollination. According to the Natural Resources Defense Council, "More than $15 billion a year in U.S. crops are pollinated by bees, including apples, berries, cantaloupes, cucumbers, alfalfa, and almonds. U.S. honey bees also produce about $150 million in honey annually."
There's been some focus on artificial pollinators to pick up the slack for bees. For example, in Japan, researchers are working to pollinate lilies with insect-sized drones .The undersides of these artificial pollinators are coated with horse hairs and an ionic gel that's sticky enough to pick up pollen from one flower and drop it onto another. The researchers hope that their invention could someday help benefit farmers by eliminating some of the potential damage that could result from bee extinction, as well as progress the farming industry as a whole.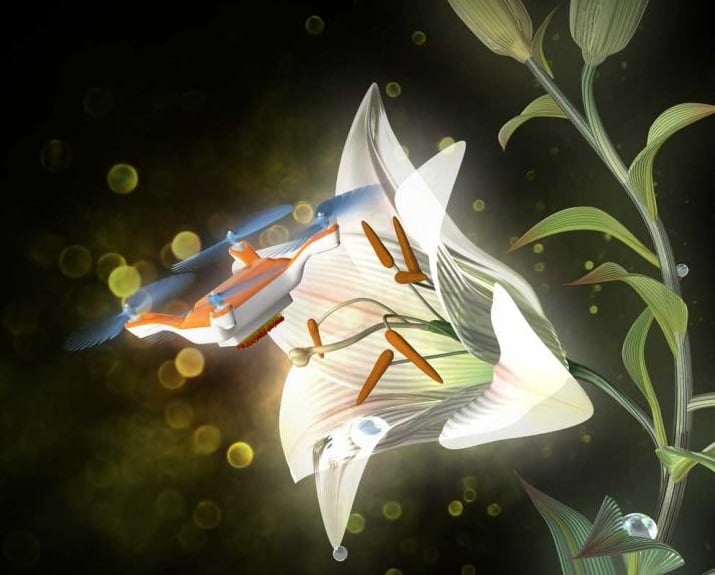 This illustration shows a radiowave controlled, bio-inspired flying robot equipped with vertically aligned animal hairs coated with ionic liquid gel demonstrates flower pollination.(Image Credit:Dr. Eijiro Miyako)
The gel used for the artificial pollinators was actually created by accident. In 2007, senior author Eijiro Miyako, a chemist at the National Institute of Advanced Industrial Science and Technology (AIST) Nanomaterial Research Institute, was working to make liquids that could be used as electrical conductors. What he created instead was a gel as sticky as hair wax. After 10 years of sitting in a storage cabinet in an uncapped bottle, it was re-discovered during a lab cleanup. Miyako decided to explore its use in pollination by testing houseflies and ants to see whether the gel could work to pick up pollen.
"This project is the result of serendipity," said Miyako. "We were surprised that after 8 years, the ionic gel didn't degrade and was still so viscous. Conventional gels are mainly made of water and can't be used for a long time, so we decided to use this material for research."
In testing, the team collected ants, put the droplet onto their bodies, and left them to roam free in a box of tulips. When they compared them to ants that didn't have the material applied, they found that they were more likely to have pollen attached to their bodies. In another experiment in which the team used houseflies, the gel was also found to have a camouflage effect—changing color in response to different sources of light.
Miyako combined the goop's capabilities with a $100 four-propeller drone. Miyako collaborated with colleagues to incorporate horse hair that mimicked the fuzzy exterior of a bee. The bristles created more surface area for pollen to adhere to and generated an electric charge to keep the grains in place.
Miyako's team flew the remote-controlled drones, with hairs and gel attached, over the flowers of pink-leaved Japanese lilies. The robots absorbed the pollen and were then navigated to a second flower where the grains were deposited, artificially pollinating the plants and beginning the process of seed production. Drones without the gel and hair components did not have this effect.
"The findings, which will have applications for agriculture and robotics, among others, could lead to the development of artificial pollinators and help counter the problems caused by declining honeybee populations," said Miyako. "We believe that robotic pollinators could be trained to learn pollination paths using global positioning systems and artificial intelligence."
Although the team's technology is not quite ready for use in the field, it is a first step toward addressing a future with fewer bees. The goal would be to decrease the stress put on bee populations by commercialization so that they can do what robots can't: make honey, while the drones take over the demands of crop pollination.
Story via Cell Press.