Advancements in unmanned aerial vehicles (UAVs) are leading to the devices being used in many ways beyond just consumer or military use. We have seen drones take to the sky to tackle wildfires, deliver packages for UPS, study marine mammals and light up the sky at the Super Bowl.
Now, John Deere is bringing industrial drones to construction job sites around the world after signing an agreement with drone maker Kespry.
The agreement will allow John Deere customers to use Kespry's integrated industrial drone platform to capture topographic data in minutes with survey-grade accuracy. Kespry's UAVs are fully automated to take off, fly to a designated path and then land without any operator intervention. John Deere customers can create missions with a touch of a finger and then capture, analyze and share survey data. The drones will be first made available in North America followed by other locations worldwide.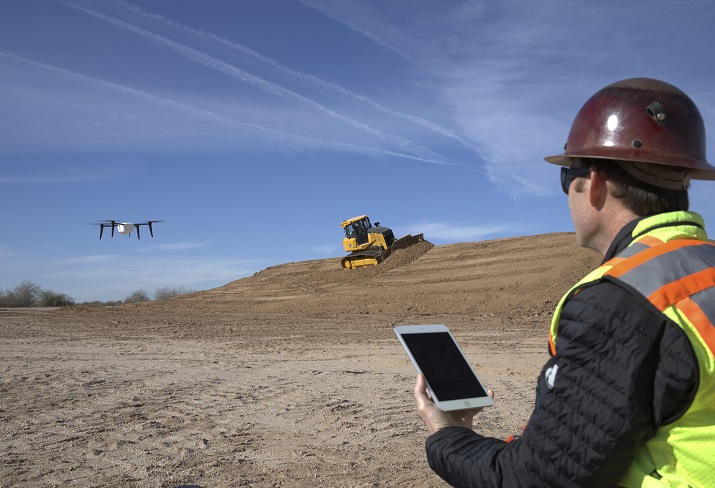 The agreement with Kespry will allow John Deere customers to use drones to map out data for roads or other land areas in minutes. Source: John Deere "This technology will help our dealers offer a seamless workflow to site development and road building contractors from project planning through grading dirt," says Andrew Kahler, product marketing manager at John Deere WorkSight. "The data gathered from the Kespry system will help our customers and equipment operators make decisions that reduce costs and improve productivity as they optimize the job site and spend less time on jobs."
John Deere says it chose Kespry because it works with its WorkSight technologies and that Kespry will train and certify customers on its platform as part of the agreement.
The Kespry UAV platform includes on-board LiDAR sensing that automatically detects and avoids obstacles such as trees, cranes and buildings. Data received from the drones can be accessed from anywhere in the world through a web interface, allowing for real-time 3-D renderings, volumetric analysis and data export features. The data can then be exported to common modeling packages such as AGTEK Earthwork 4-D and other 3-D model overlays.