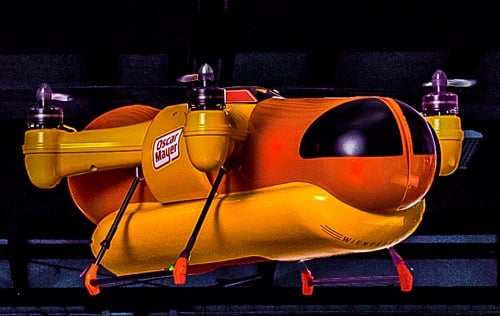 The Wienerdrone will deliver hot dogs to remote locations. Image credit: Oscar Mayer
We like to cover a wide range of new drone technologies here at Electronics360 but this might take the cake, er, the hot dog.
Oscar Mayer has unveiled a new line of vehicles it will use to promote its brand across the U.S. and, yes, it includes an unmanned aerial vehicle (UAV) aptly named Wienerdrone.
The hot dog carrying robot can only carry one dog at a time but it can deliver that one precious hot dog more than a mile in distance, traveling at up to 50 meters an hour and at an altitude of 1,200 feet (or 2,400 hot dogs end-to-end).
The company says it will use Wienerdrone as a method of remote location delivery. While Oscar Mayer's use of a drone as a delivery mechanism is an obvious gimmick, it shows how the technology is being adopted for various delivery incarnations, something that is just in its infancy. But then again, who wouldn't want a hot dog to magically be dropped into your lap on a lazy day?
The Wienerdrone will make its debut this Fourth of July at the summer kickoff of the America tour in Weiner, Arkansas that will also include the iconic Wienermobile, the WienerMini vehicle and autonomous WienerRover. Another new addition to the fleet is the WienerCycle — a three-wheeled moped designed for urban deliveries.