North American semiconductor manufacturing tool bookings continued to surge in March as suppliers maintained traction from the previous two quarters, according to trade association SEMI.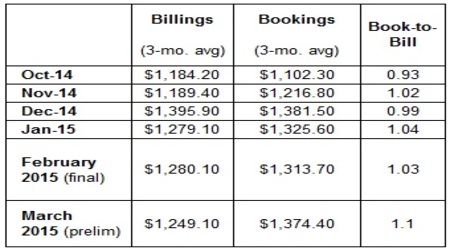 Data on billings, bookings and book-to-bill of North American semiconductor manufacturers. Source: SEMIMakers of semiconductor equipment had $1.37 billion in orders worldwide in March—based on a three-month average basis—and a book-to-bill ratio of 1.10. A book-to-bill of 1.10 means that $110 worth of orders were received for every $100 of product billed for the month.
The booking figure for the preliminary numbers in March was 4.6% higher than the final total from February and 5.9% higher than the March 2014 order level, SEMI says.
Meanwhile, billings in March were $1.25 billion, down 2.4% from February but up 1.9% compared to March of last year, SEMI says.
Questions or comments on this story? Contact [email protected]
Related links:
IHS Semiconductor Manufacturing
News articles: