North American printed circuit board (PCB) shipments increased 1.2% in February compared to January, while new orders declined 0.7%, according to the Association Connecting Electronics Industries (IPC), a trade group.
PCB shipments in February decreased 1.1% compared to February 2014, while new orders for boards increased 5.1% for the same period, IPC says.
The board book-to-bill ratio was 1.05, up from 1.01 in January. A ratio of 1.05 means board manufacturers received $105 in new orders for every $100 of orders that they shipped.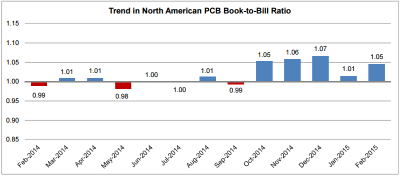 Click to enlargeSharon Starr, IPC director of market research, says February North American PCB sales were slightly below last year's levels, while bookings strengthened. "The [book-to-bill] ratio has been in positive territory for the past five months, which is a positive indicator for sales growth in the first half of 2015," Starr says.
While the board book-to-bill ratio increased, the ratio for semiconductor equipment declined to 1.02 in February compared to 1.04 in January, according to a separate trade group, SEMI.
SEMI says semiconductor manufacturers received $1.31 billion orders in February, 1.3% lower than January. Orders in February increased 1% compared to February 2014, SEMI says.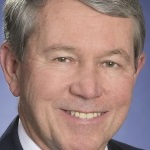 Denny McGuirk
Equipment shipments in February were $1.28 billion, down 0.2% from January. February shipments were also 0.9% lower than February 2014, SEMI says.
"Year-to-date bookings and billings for North American semiconductor equipment are higher than last year for the same time period," says Denny McGuirk, SEMI president and CEO. "The year is off to a good start, with growth in bookings from the back-end sector."
Questions or comments on this story? Contact peter.brown@globalspec.com
Related links:
IHS Semiconductor Manufacturing
News articles: