Global sales of semiconductor manufacturing equipment increased 18 percent to $37.5 billion in 2014, according to trade association SEMI.
Equipment spending increased in all the regions except Taiwan, where sales declined 11 percent to $9.41 billion, SEMI said. Despite the year-to-year decrease, Taiwan remained the largest market for new semiconductor equipment for the third year in a row, according to SEMI.
The North American market held onto the second place with $8.16 billion in sales, a 55 percent increase from 2013, when equipment sales totaled $5.27 billion, SEMI said.
South Korea maintained its third position with total sales of $6.84 billion, up 31 percent from 2013. Equipment sales increased 30 percent in China to $4.37 billion in 2014, the association said.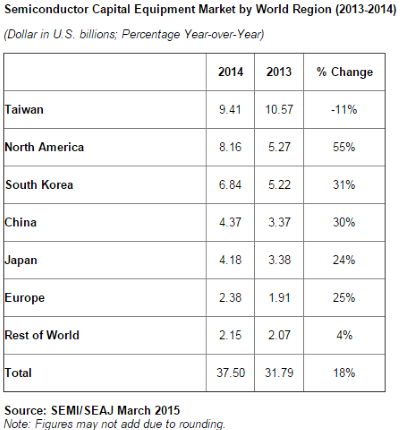 Equipment sales in Japan increased from $3.38 billion in 2013 to $4.18 billion in 2014, a 24 percent annual increase. Semiconductor equipment revenue in Europe grew 25 percent from $1.91 billion in 2013 to $2.39 billion in 2014, according to SEMI.
Semiconductor equipment includes wafer processing, assembly and packaging, test and other front-end equipment. Other front-end includes mask/reticle manufacturing, wafer manufacturing and fab facilities equipment.
The global assembly and packaging segment increased 33 percent in 2014, while total test equipment sales rose 31 percent, according to SEMI. Other front end equipment segments increased 15 percent and the wafer processing equipment market increased 15 percent, SEMI said.
Sales data was submitted by members of SEMI and the Semiconductor Equipment Association of Japan (SEAJ).
Questions or comments on this story? Contact peter.brown@globalspec.com
Related links:
IHS Semiconductor Manufacturing
News articles: