Semiconductor fab equipment spending increased nearly 20 percent in 2014 to $35.2 billion and is expected to rise another 15 percent in 2015 to reach $40.6 billion, according to trade association SEMI. However, the rate of equipment spending growth is expected to slow to between 2 and 4 percent in 2016 to between $41 billion and $42 billion, SEMI said.
Fab spending, including fab construction and equipment costs, is part of a company's total capital expenditure (capex). Typically, if capital spending increases, fab spending also rises.
Capital expenditures for most large semiconductor companies are expected to increase by 8 percent in 2015 and grow another 3 percent in 2016, according to the association. The projected increases are driven by new fab construction projects and the ramp up to new technology nodes.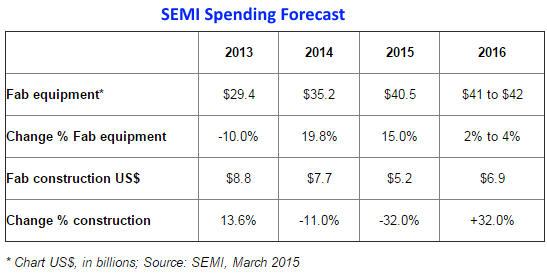 Spending on construction projects, which typically represents new cleanrooms, will decline 32 percent to $5.2 billion in 2015 , but will rebound by 32 percent to $6.9 billion in 2016 , according to SEMI's forecast.
The most fab equipment spending in 2015 will occur in Taiwan, home to the world's largest chip foundries, where firms are expected to invest $11.9 billion in fab equipment in 2015, according to the forecast. South Korea is expected to account for the second most equipment spending, $9 billion, while the Americas is expected to follow with about $7 billion in spending, SEMI said.
While spending is projected to increase 12 percent in the Americas in 2015, it is forecast to decline 12 percent in 2016.
China is expected to have $4.7 in equipment spending in 2015 and $4.2 billion in 2016, while the Europe/Mideast region is projected to increase spending 20 percent in 2015 to reach $2.7 billion, then grow another 15 percent to reach $3.5 billion in 2016, SEMI said.
Related links:
IHS Semiconductors & Components
IHS Semiconductor Manufacturing
News articles: