North American semiconductor equipment suppliers posted $1.60 billion in orders worldwide in September as the book-to-bill ratio remained above parity at 1.07, according to the trade group SEMI.
The three-month average of worldwide bookings of $1.60 billion is 4.1% lower than the final August level of $1.67 billion, but is a whopping 35.1%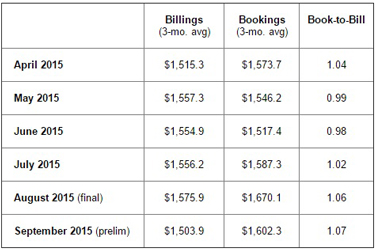 Equipment bookings for September were up 35.1% higher than during the same month in 2014. Source: SEMIhigher than the same month last year when bookings were $1.19 billion, SEMI says. A book-to-bill of 1.07 means that $107 worth of orders were received for every $100 of product billed for the month.
The three-month average for worldwide billings in September was $1.50 billion, 4.6% lower than the final August level of $1.58 billion, but 19.7% higher than the same month in 2014 when billings were $1.26 billion, the company says.
"Both bookings and billings trended slightly lower in the September three-month average compared to August," says Denny McGuirk, president and CEO of SEMI. "While year-to-date billings through the first three quarters are above 2014 billings, uncertainty with semiconductor demand has dampened expectations with capex plans in the near-term."
SEMI's book-to-bill is a ratio of three-month moving averages of worldwide bookings and billings for North American-based semiconductor equipment manufacturers.
Questions or comments on this story? Contact engineering360editors@ihs.com
Related links:
IHS Semiconductors & Components
News articles: