Shipments and new orders of semiconductor equipment increased in January compared to January 2014 as the book-to-bill ratio improved to 1.03 from 0.99, according to the trade association SEMI.
SEMI said North America-based manufacturers of semiconductor equipment received $1.31 billion in new orders worldwide in January 2015 (three-month average basis), up 2.6 percent from January 2014 when new orders totaled $1.28 billion. However, new orders in January 2015 declined 4.9 percent compared to December 2014 when equipment makers posted $1.38 billion in new orders, the association said.
The three-month average of semiconductor equipment billings (shipments) in January 2015 was $1.28 billion, 3.5 percent increase from January 2014 when billings were $1.23 billion. Billings in January were 8.6 percent lower than December 2014 level of $1.40 billion, according to SEMI.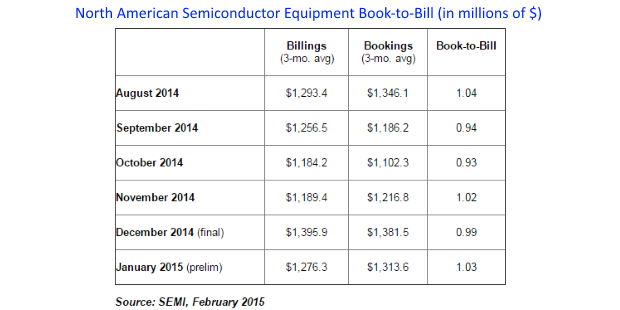 150220_semi_b2Bb_620
The semiconductor equipment book-to-bill ratio in January was 1.03, up from 0.99 in December. A ratio of 1.03 means that equipment manufacturers received $103 in new orders for every $100 of orders that they shipped in the month. Anytime the ratio is above 1.00 it means business is improving.
SEMI president and CEO Denny McGuirk said 2014 was a strong growth year for the semiconductor equipment industry and both bookings and billings at the start of 2015 were comparable to the early 2014. "Given the positive outlook for the semiconductor industry in 2015 and based on current capex (capital expenditure) announcements, we expect the equipment market to continue to grow this year," he said
The SEMI book-to-bill is a ratio of three-month moving averages of worldwide bookings and billings for North American-based semiconductor equipment manufacturers.
Questions or comments on this story? Contact peter.brown@globalspec.com
Related links:
IHS Semiconductors & Components
IHS Semiconductor Manufacturing
News articles:
NXP Forms Chinese Power Semiconductor Joint Venture
Samsung Begins Mass Production of 14nm Mobile Processor
Consolidation Heats Up In Chip Industry