Winners and finalists of the 2021 edition of the Electronics Industry Awards, organized by Datateam Business Media, publisher of U.K.-based Components in Electronics (CIE), were announced in late October from The Tower Hotel in London.
Several names likely to be familiar to regular readers of the GlobalSpec electronic test equipment newsletter appeared in the test, measurement and inspection product category, including Keysight Technologies, Rohde & Schwarz, Tektronix and Yokogawa. The list of entrants represents a broad overview of recent happenings in the industry segment, including cloud-based high-performance computing (HPC), compact antenna test range (CATR) system development, remote data acquisition and others.
Here are a few of the highlights: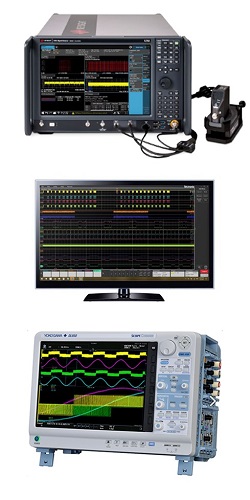 The test, measurement and inspection category of the Electronics Industry Awards 2021 included several entries likely to be familiar to Electronics360 readers, including (from top) the N9042B from Keysight Technologies; TekScope software from Tektronix; and the DL950 from Yokogawa. Source: Keysight, Tektronix and Yokogawa Keysight Technologies appeared twice on the finalists list. Its PathWave Advanced Design System (ADS) provides the infrastructure for high-performance computing and cloud simulation, which can significantly reduce the simulation times needed for complex product design and verification. In addition, the company's N9042B UXA X-Series Signal Analyzer is designed for millimeter-wave (mmWave) testing, as discussed earlier this year here on Electronics360.
Rohde & Schwarz was included for its first-ever CATR radar test system using the R&S ATS1500C CATR chamber and R&S AREG100A Automotive Radar Echo Generator. Integration of the two devices allows for enhanced performance and precise calibration of automotive radars, with applications for advanced driver assistance systems (ADAS) and autonomous driving.
TekScope software from Tektronix received a nod not only as a finalist, but also as a "highly commended" product on the official winners list. Electronics360 reported on the offering in October 2020 as part of the company's strategy for supporting engineers working remotely, a trend exacerbated by the COVID-19 pandemic. The application's support of real-time data acquisition underscores its billing as "oscilloscope analysis without the oscilloscope."
Yokogawa's DL950 ScopeCorder and IS8000 Integrated Software platform also appeared on the list. In February, Electronics360 also reported on the DL950 for its capabilities as both an oscilloscope and data acquisition recorder.
Other product entries on the list included a radar-based distance measurement system from InnoSenT, a high-power programmable power supply from ITECH Electronic Co. and the category winner, a precision acoustic imager from Fluke Corporation.
Click here for more information on the Electronics Industry Awards.