The coronavirus pandemic has prompted a massive shift to remote working arrangements, and various statistics point to a continuation of this trend even after COVID-19 is no longer a threat.
There are, however, challenges to this "new normal," including limits to technology, concerns about employee productivity and shortcomings in security. Strategies for remote work success are needed, perhaps now more than ever before.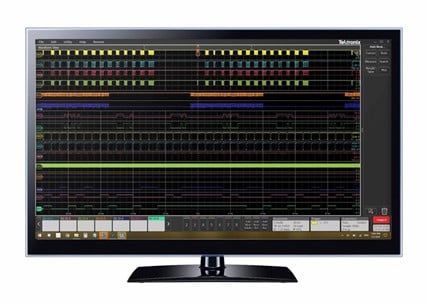 Tektronix has released a suite of test tools to help engineers work from home. Source: TektronixTektronix, an American test and measurement corporation, has developed a suite of solutions that aims to tackle some of these challenges for those tasked with "engineering from home." Key capabilities include off-instrument analysis of measurement data; collaborative analysis with remote colleagues; and remote access and control of instruments. Remote capability software offerings include:
TekScope, to enable waveform analysis and scope data sharing from a Windows PC. Billed as "oscilloscope analysis without the oscilloscope," the application offers real-time data acquisition from a remote connection, the ability to sync two scopes into a single virtual instrument and the sharing of entire datasets instead of static screenshot stacks.
Keithley Kickstart, to collect and visualize data. By incorporating tools such as digital multimeters (DMMs), loggers and source measurement units (SMUs), Kickstart allows data plotting with quick statistical summaries, test replication and results comparisons.
SourceXpress, to build complex test waveforms and control arbitrary waveform generation (AWG) instrumentation.
SignalVu-PC, to perform vector signal analysis of data from real-time spectrum analyzers (RSAs) and oscilloscopes. The software is a comprehensive suite of tools, including free and paid add-on options, that can accommodate design validation for electromagnetic interference (EMI) and electromagnetic compatibility (EMC) pre-compliance testing, wideband radar, wireless LAN and other applications.
Keithley Automated Characterization Suite (ACS), to enable characterization and testing of a wide array of electrical instruments and systems developed by Keithley, a Tektronix company. ACS functions as an interactive software test environment that does not require programming knowledge to use.
Clarius+, to bring analysis, reference and development from a Keithley 4200A parameter analyzer system to a PC.
Tektronix also offers business support services including calibration, instrument repair, engineering asset management and compliance testing.
More information about all of these solutions can be found on the Tektronix remote analysis page, which also offers an informative blog post about staying productive in pajama pants.