Test and measurement solutions provider Tektronix, which Electronics360 last reported on in January for its new 5 Series mixed signal oscilloscope (MSO) release, is continuing to keeping pace with developments in the RF industry.
The company has recently launched new software to support 5G NR signal analysis, along with a base transmitter solution in line with new PCI Express (PCIe) specifications — something it says is an industry first.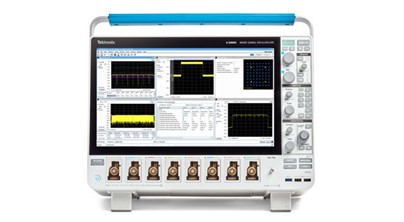 Tektronix is keeping pace with RF industry developments with new releases that include its SignalVu 5G NR software. Source: Tektronix Inc.The software release should come as welcome news to engineers accustomed to performing painstaking correlation between instruments, as it's designed to enable diagnosis of complex signal interactions on a single device. It's designed for the 6 Series B MSO oscilloscope, which Tektronix said are preferred by RF system designers for viewing power rails, digital control buses and I/O signals along with RF signals. The new SignalVu 5G NR software package supports the 5G NR standard established under the 3GPP release of 15/16 test specifications, and it enables pass/fail testing of the 5G NR physical layer to qualify transmitter designs.
The 5G NR analysis option is also available for Tektronix DPO70000SX oscilloscopes, which offers up to 70 GHz bandwidth and support for high-frequency systems such as FR2. Engineers using Tektronix RSA500 or RSA5000 Series real-time signal analyzers can also use the 5G NR option. The software operates identically on oscilloscopes and signal analyzers, eliminating the need to learn a new toolset. More information is available here.
Tektronix also noted in a press release that its new base transmitter solution came just weeks after the PCI-SIG working group's release of PCIe 6.0 Base specifications and validation requirements. The company's own involvement in the group allowed it to help define the standard's measurement methodologies, which represent a transition to PAM4 signaling and new error correcting techniques. As a scalable standard, PCIe 6.0 is in line with data-intensive environments such as data center, artificial intelligence/machine learning (AI/ML) and high-performance computing.
The new base transmitter solution is designed for use on Tektronix DPO70000SX ATI Performance Oscilloscopes, and it includes PCIe 6.0 measurement-specific software, enhanced PAM4 DSP capabilities and noise compensation on the oscilloscope for increased accuracy of results. It also offers support for measurements uniquely developed for the PCIe 6.0 standard, including SNDR, RLM, uncorrelated jitter and pulse width jitter.