A new signal analyzer from Keysight Technologies is designed for testing the performance of millimeter-wave (mmWave) innovations in a variety of areas, including 5G, aerospace/defense and satellite communications.
"At mmWave frequencies, signals are more susceptible to impairments that affect the signal quality, such as IQ modulation errors, phase noise, distortion, signal-to-noise ratio, amplitude and phase linearity," said Kiran Unni, vice president of industrial technologies at Frost & Sullivan. "For designers and manufacturers, addressing these challenges is crucial when characterizing and testing the true performance of mmW products."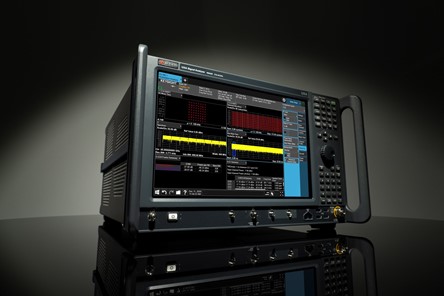 The N9042B is designed for testing the performance of millimeter-wave innovations. Source: Keysight TechnologiesWith its wide analysis bandwidth and deep dynamic range, Keysight's new N9042B UXA X-Series signal analyzer is designed to do just that. It can also navigate mmWave challenges such as tight design margins and timelines, complex modulation and stringent standards.
Benefits include:
Ensuring designs meet the latest standards with ready-to-use measurement applications and signal analysis software.
Seeing signals clearly with an unbanded, preselected sweep from 2 Hz to 110 GHz and up to 11 GHz of analysis bandwidth.
Testing the true performance of a 5G new radio (NR) transmitter with an advanced error vector magnitude (EVM).
Finding out-of-band emissions or spurs quickly in radar designs with superior swept displayed average noise level (DANL).
Developing high-throughput satellite communication designs with 4 GHz of corrected analysis bandwidth.
For cellular communications, the N9042B solution is up to the task of testing 5G components and devices per the 3GPP 5G NR standard Releases 15 and 16. It is designed to test true performance of transmitter designs with EVM and 5G NR signal analysis software, which perform one-button transmitter downlink and uplink measurements. The new signal analyzer is also well-suited for working with satellite designs, thanks to its ability to characterize amplifiers and components at bandwidths wider than the target application.
In addition, Keysight manufactures several devices that interface with and extend the capabilities of the N9042B. These include the V3050A signal analyzer frequency extender, which provides unbanded and preselected frequency coverage up to 110 GHz; the RCal receiver calibrator, which corrects system path losses and frequency responses up to 5 GHz IF bandwidth; and the VXG microwave signal generator, which offers a dual-channel architecture to quickly switch from blocker and interferer tests to dual channel MIMO and beamforming tests.