Renewable and energy-efficient technologies need robust equipment for effective design and evaluation. Yokogawa Test & Measurement Corporation has recently released a unique device to fit that bill: It combines a multi-channel, mixed-signal oscilloscope with a portable data acquisition recorder to offer deep levels of insight and efficiency.
The new DL950 ScopeCorder captures both high-speed transient events and long-term trends, building on the capabilities of the Yokogawa's existing DL850E through its ability to handle larger amounts of data at a faster sample rate and with a longer recording time. The DL950 is capable of simultaneous measurement of a wide variety of mechanical parameters.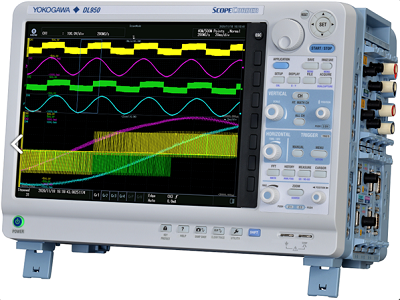 The new DL950 is a unique device that combines a multi-channel, mixed-signal oscilloscope with a portable data acquisition recorder. Source: Yokogawa Test & Measurement Corp.As Yokogawa explains in a press release, increasing complexities in electronic systems have resulted in the need to measure a wide range of input signals at fast sampling speeds over lengthy periods. Design and test engineers must often resort to using multiple test instruments to measure several signals under different conditions. Examples include signals gauging voltage, current, temperature, vibration, acceleration, strain and other electro-mechanical and physical phenomena — and the number of measuring points is on an upward trend.
The possibility of viewing all signals with one common instrument simplifies data synchronization and the management of multiple data formats and storage locations. Engineers using the DL950 can mix and match input types with over 20 types of isolated input modules. Eight modular slots provide up to 128 channels of measurement data, allowing data synchronization. Moreover, up to five DL950 units can be connected for the analysis of correlations among data. Accurate synchronized measurement in conjunction with other instruments is also possible via the IEEE1588 high-precision time synchronization protocol for networked devices.
As the company points out, the mechatronics industry has a growing need for the measurement not only of electrical signals but also of noise, vibration and harshness (NVH). Industrial equipment manufacturers may find the DL950 is an ideal fit for testing high-efficiency motors, robots and sensors.
Key features are summarized below:
Insight into fine waveform details:
200 MS/s high-speed sample rate
8 G points large memory
Long recording to internal flash memory at 20 MS/s
10 Gbps Ethernet high-speed data transfer
Up to 16-bit analog resolution
Versatility:
8 input module slots
Up to 160 synchronized channels
A variety of isolated plug-in modules
Ease of use:
Newly designed application menu
12.1-inch large touch screen