As profit margins for 32-inch high-definition (HD) liquid crystal displays (LCDs) falters, panel manufacturers are expected to shift production to larger sizes to compensate, according to a new report by IHS.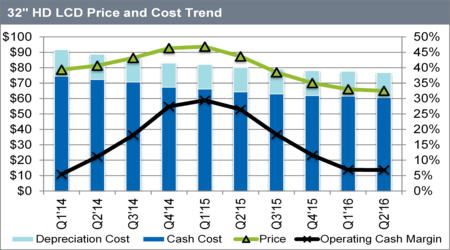 32-inch LCD display prices will continue to fall through at least the second quarter of 2016. Source IHS. LCD panel makers are increasing their capacity in China with 8th-generation fabs that produce 32-, 48-, 49- and 55-inch displays. However, with prices for 32-inch panels expected to decrease by 22% by the first quarter of 2016, manufacturers are looking to increase their profits by increasing demand for larger sizes.
In the past, 32-inch HD LCDs were seen as the key industry revenue generator, but now the situation is changing as panel prices at this level is declining. IHS says.
"Most LCD TV panel prices began to fall after the first quarter of this year, and prices will reach their lowest level in the second quarter of 2016," says Yoshio Tamura, senior director of research and analysis for IHS. "Since equipment depreciation cost is factored into 8th-generation fabs, the total LCD profit margin is expected to turn negative next year."
Questions or comments on this story? Contact engineering360editors@ihs.com
Related links:
IHS Large Area Display Cost Model
News articles:
Apple Drives Demand for LTPS FTF LCD Smartphone Displays
Decline in Flat Panel Display Revenue Expected in 2015
8K TV Shipments Forecast to Grow Rapidly in the Next 5 Years
Outsourcing Emerges as a Key Strategy for LCD TV Makers, IHS Says