Consumer interest in small sized notebook products—such as the popular Chromebooks—is driving down unit shipments of 15-inch displays used in conventional notebooks, according to a new report from IHS.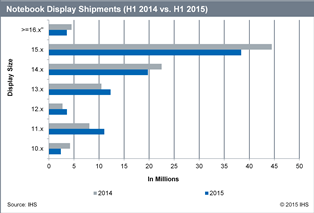 11-inch displays rose by 3 million units in the first half of 2015 while 15-inch displays fell. Source: IHS. In the first half of 2015, panel shipments of the 15-inch variety dropped 14% to 38.4 million units, down from 44.5 million units in the first half of 2014, IHS says. Notebook display shipments in the 11-inch range (where Chromebook displays are used) grew to 11 million units in the first half of 2015 up from 8 million in the first half of 2014.
"Thanks to affordable prices, and a completed ecosystem with a host of hardware and app choices and a user-friendly cloud environment, Chromebook has expanded its customer base from small and medium-sized businesses and the education market to general users," says Jason Hsu, senior analyst for large displays at IHS.
Chromebooks have expanded from the U.S. to emerging countries, where local brands are launching Chromebook product offerings. "There are also more products set to debut in the 12-inch range, thanks to the success of the Microsoft Surface Pro 3 and rumors of Apple's upcoming 12.9-inch tablets," he says.
However, growth in the 11- and 12-inch notebook panel sizes was not enough to stave off a decline in total notebook panel shipments. Shipments to Lenovo and Hewlett-Packard fell 27% month-over-month from 6.4 million units in May to 4.7 million units in June. Therefore, these two leading notebook PC brands are taking steps to regulate panel inventory in order to guard against excess product pre-stocking, IHS says.
Questions or comments on this story? Contact engineering360editors@ihs.com
Related links:
Notebook & Tablet Display Supply Chain Tracker
News articles:
LCD Panel Makers Shift Production to Larger Sizes
Apple Drives Demand for LTPS FTF LCD Smartphone Displays
Decline in Flat Panel Display Revenue Expected in 2015
8K TV Shipments Forecast to Grow Rapidly in the Next 5 Years
Outsourcing Emerges as a Key Strategy for LCD TV Makers, IHS Says