Declining thin-film-transistor liquid crystal display (TFT LCD) revenues, weak flat panel display (FPD) demand in the PC sector and ongoing panel price erosion are leading to a 2% decline in revenues for overall FPD revenue this year, according to the latest report from IHS.
Global FPD revenues are expected to drop to $129 billion in 2015, down from the $131.4 billion in revenue registered last year. After TFT LCDs grew in 2014, IHS forecasts TFT LCDs to decrease to $115.8 billion in 2015, down from $120 billion last year. The FPD market will not be helped by older technologies either, because plasma, cathode-ray tube (CRT), passive-matrix LCDs and electronic paper display (EPD) revenues are also facing declines.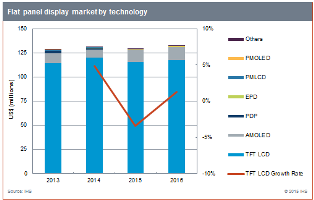 IHS forecasts a 2% decline in overall flat panel display revenues for 2015. Source: IHSHowever, the good news is that IHS forecasts that TFT LCD panels will return to growth in 2016.
TFT LCD, the largest FPD market, grew 5% last year to reach $120 billion. This was the result of higher panel prices and strong growth in the number of shipments of LCD TV panels. This year, it is an entirely different story, IHS says.
Demand for panels used in tablets, notebooks in desktop monitors is faltering as the entire PC market is struggling as a result of an inventory correction due to a commercial refresh in the PC cycle as the result of Windows XP retirement (Read: Intel Cuts Capital Spending Estimate in Anticipation of Down Year for PCs).
Other problems for TFT LCD panel manufacturers in 2015 include price erosion on smartphone panels as increased production of low-temperature polysilicon (LTPS) TFT LCD panels is gaining traction. Also open-cell LCD TV panel prices—including 4K ultra-high definition (UHD) TV panels—are declining.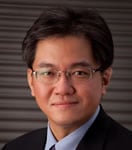 David Hsieh, senior director of display and research for IHS."Panel prices are eroding for several reasons, including the swing in LCD TV panel inventory from limited supply to over-supply, which began in the second quarter of this year," says David Hsieh, senior director of display research for IHS. Hsieh says that in order for the FPD supply chain to maintain profitability, it must shift focus from growth to cost reduction.
OLEDs Rising
The only bright spot in 2015 will come from organic light emitting diodes (OLEDs), which is forecast to continue its growth path, IHS says. Active matrix OLEDs (AMOLEDs) are forecast to reach $11.8 billion in revenues this year, up 36% from 2014 while passive-matrix OLEDs (PMOLEDs) will reach $450 million, up 22% from last year.
Hsieh says smartphone OLED display shipments and growth in OLED TV panel shipments is fueling the rise in this technology as well as the expansion of OLEDs into the tablet and wearable device space.
Questions or comments on this story? Contact engineering360editors@ihs.com
Related links:
News articles:
ZTE to Deliver First Antimicrobial Smartphone
8K TV Shipments Forecast to Grow Rapidly in the Next 5 Years
Outsourcing Emerges as a Key Strategy for LCD TV Makers, IHS Says
4K Panel Shipments Hit Record in April, IHS Says